Air France Backs Down on New Low-Cost Unit to Appease Pilots
Andrea Rothman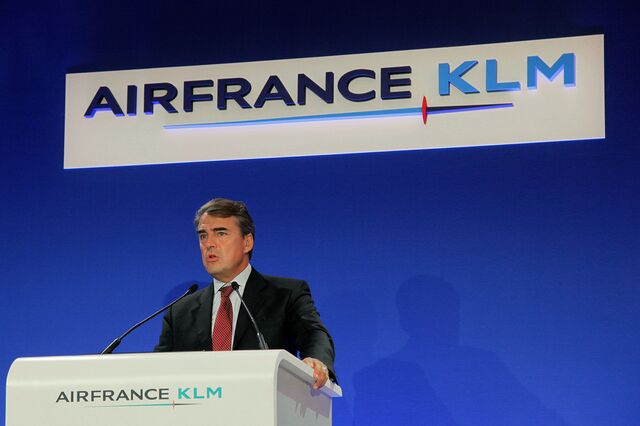 Air France proposed to immediately drop a low-cost subsidiary outside its French and Dutch home bases, a plan that had riled French pilots and led to a 10-day strike that management called "destructive."
Management offered to withdraw the creation of a Transavia Europe subsidiary, and will focus instead on further developing Transavia France, a plan the airline said is "a 100 percent pro-France project" because it avoids potential relocation and instead creates more than 1,000 jobs at home, according to a statement yesterday. In return, pilots should end their strike.
The Transavia Europe project aimed to set up a unit to compete with the likes of EasyJet Plc and other low-cost carriers that have chipped away at short-haul routes of European legacy airlines. Pilots started their strike on Sept. 15 and voted today to extend the walkout until Sept. 30, in a battle that Air France said cost it 20 million euros ($25.6 million) each day and and has thrown its earnings goal into disarray.
"In these conditions, Air France management calls on the pilots to return to work immediately," the airline said in the release. "This balanced proposal meets the unions' requirements by providing a renewed guarantee that there will be no relocation" of jobs, it said.
The walkout by pilots prompted interference from government, which remains the largest Air France shareholder with a 16 percent stake. Prime Minister Manuel Valls called on pilots to end their strike, saying the French public didn't understand the action, and demanded both sides return to the negotiation table. Yesterday, the government pushed ahead and said that Transavia Europe would be dropped, a disclosure the company called "premature" at the time.
Holding Out
The strike is already the longest since 1998. It was triggered by pilots who said they felt threatened by plans to move beyond Air France's existing French and Dutch Transavia units and create a separate European operation that would have promised even lower costs and more flexible work rules.
Chief Executive Officer Alexandre de Juniac, who has lead the airline group for about a year, had previously said that with expenses at Transavia France still not low enough, a more competitive arm might need to be established elsewhere to end short-haul losses and fend off the challenge of discount carriers.
He had initially proposed delaying the creation of Transavia Europe -- a proposal that pilots rejected as a "smokescreen" -- only to back down more today and offer to scrap the plan altogether.
Before it's here, it's on the Bloomberg Terminal.
LEARN MORE