World's Most Profitable Banks Gain From Slowdown: Southeast Asia
Novrida Manurung and Yudith Ho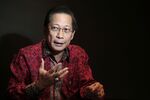 Indonesian banks are cutting deposit rates from a five-year high as demand for cash declines, allowing the world's most profitable lenders to benefit from the slowing economy.
The average interest rate paid on one-year deposits was 8.51 percent in July, the highest since October 2009, with PT Bank Rakyat Indonesia, PT Bank Central Asia and PT Bank Mandiri saying they see room to reduce the rate they pay savers as slower lending growth damps competition for cash. The one-month Jakarta interbank offered rate, or Jibor, dropped 22 basis points this month to 7.36 percent, falling below Bank Indonesia's 7.5 percent policy rate for the first time in 2014.
Indonesian banks with a market value exceeding $5 billion have an average return on equity of 24.4 percent, the highest among lenders in 21 major economies tracked by Bloomberg. That tempted DBS Group Holdings Ltd. to try to buy PT Bank Danamon Indonesia last year in a deal that was scuttled by regulators. Bank Rakyat, the country's second-largest lender by market value, saw its interest expenses rise 13 percent in the second quarter from the previous three months, contributing to a 2.1 percent decline in net income.
"With the outlook for a lower cost of funds, we hope to recoup any lost opportunity and return to our high profitability trend," Achmad Baiquni, finance director at Bank Rakyat in Jakarta, said in a Sept. 16 interview. "Our margins narrowed a little as we had to pay more to get funds previously."
Share Moves
The lender's share price has rebounded 2.2 percent since closing at a two-month low on Sept. 15. Bank Central Asia, the biggest lender by market value, advanced 4.8 percent over the same period and Bank Mandiri, the third-largest, rose 3.7 percent. PT Bank Negara Indonesia, the only other Indonesian lender with a market capitalization of more than $5 billion, increased 3.5 percent.
The one-month Jibor fell six basis points, or 0.06 percentage point, today, the steepest drop since January 2013, data compiled by Bloomberg show.
Indonesian banks enjoy strong profitability because the gap between the interest they demand on loans and what they pay on deposits is relatively high, Igor Nyoman, an analyst at BNP Paribas SA in Jakarta, said in an interview yesterday. They derive more than 75 percent of their income from interest payments, compared with an average of 63 percent across Southeast Asia, he said.
Bank Central Asia, commonly known as BCA, lowered its one-year deposit rate by 50 basis points, or 0.5 percentage point, this month to 8.5 percent, according to President Director Jahja Setiaatmadja. That followed a 25-basis-point cut in August.
'Favored Picks'
"The decline in deposit rates still has room to continue and will have an impact on our cost of funds," Setiaatmadja said in a Sept. 17 interview in Jakarta.
Bank Rakyat's potential return is seen at 17 percent with the one-year target price at 12,452 rupiah, from 10,650 rupiah as of the midday trading break, according to analyst estimates compiled by Bloomberg. Bank Mandiri is seen gaining 11 percent to 11,716 rupiah, while BCA has already exceeded its consensus goal price of 12,508 rupiah by 0.7 percent.
"The bigger lenders remain our favored picks as they will benefit the most" from the lower deposit rates, Joseph Pangaribuan, an analyst at PT Samuel Sekuritas Indonesia in Jakarta, said in a Sept. 22 interview.
PT Bank CIMB Niaga is still offering 10.5 percent on one-year deposits and PT Bank UOB Indonesia is paying 9.58 percent, according to central bank data on Sept. 19. That compares with the 7.75 percent maximum rate guaranteed by the nation's deposit insurance agency, better known as LPS.
Unhealthy Competition
Indonesia's Financial Services Authority, or OJK, is looking at how to encourage lenders to lower their deposit rates as the competition for funds may become "unhealthy" and favor the bigger banks, Chairman Muliaman Hadad said Sept. 12 in Jakarta.
Southeast Asia's largest economy expanded 5.12 percent in the second quarter, the slowest pace in almost five years, following 1.75 percentage points of increases to the benchmark interest rate from June to November last year. Inflation, which peaked at 8.22 percent after fuel prices were increased in June 2013, eased to 3.99 percent in August.
President-elect Joko Widodo, who takes office on Oct. 20, has signaled he is committed to cutting energy subsidies further, while the Federal Reserve is on course to end its bond-buying program in October and start raising U.S. interest rates next year.
'Quite Hawkish'
"Bank Indonesia has been quite hawkish in holding its rate despite slowing inflation," Pangaribuan at Samuel Sekuritas said. "So it might not need to raise rates to respond to the Fed or a fuel-price hike."
Bank Danamon Indonesia, which hasn't lowered its one-year deposit rate of 6.25 percent yet, expects to be able to reduce the rate if the central bank stays on hold, Chief Financial Officer Vera Eve Lim said in a Sept. 8 interview in Jakarta.
LPS sees lenders' profit increasing by 10 percent to 12 percent this year, compared with about 20 percent in 2013, because of the difficulty of passing on the higher cost of funds to loan rates, Doddy Ariefianto, the head of risk management, said in an interview in Jakarta yesterday.
Credit expansion eased to 15 percent in July from a year earlier, exceeding the OJK's target to slow lending growth this year to 16 percent to 17 percent, from 22 percent last year.
Bank Negara, which issued Indonesia's first rupiah bank notes in 1946, has cut the rate it pays on savings and will continue to do so, said Chief Financial Officer Yap Tjay Soen.
"At this moment, our liquidity is too excessive," he said in a Sept. 18 interview from Jakarta. "Low loan-to-deposit ratio pressures our profitability. Liquidity risk, in my personal view, has declined in line with the regulator's guidance."
Before it's here, it's on the Bloomberg Terminal.
LEARN MORE