Vodafone's U.K. Head Seeks Return to Growth in 24 Months
Amy Thomson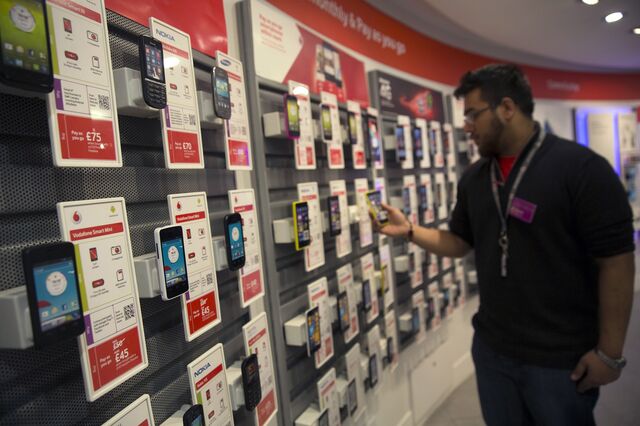 Vodafone Group Plc U.K. head Jeroen Hoencamp has a straightforward target: A return to growth within two years.
"My aim is to take the business back to growth in 18-24 months from a profit and revenue point of view," Hoencamp said at a dinner last night with reporters in London. The difficulty is that the market is highly subsidized, heavily regulated and already has a high level of penetration, he said.
The key is improving the quality of the network's service, Hoencamp said. "Nothing else matters if we don't focus on network," he said. "It was the one message that came through loud and clear from our customers."
Vodafone, the biggest mobile phone carrier outside of Asia with operations in 21 countries, is lagging behind at home, winning fewer customers than Telefonica SA's O2 or EE Ltd, the joint venture owned by Orange SA and Deutsche Telekom AG.
Its call quality was ranked last out of the major U.K. mobile carriers in the first half of the year by network analysis firm Root Metrics. Vodafone's customer numbers in the country linger behind Telefonica's O2 and EE.
Vodafone shares were trading 1.7 percent higher at 201.95 pence at 8:42 a.m. in London, valuing the carrier at 53.5 billion pounds ($87.7 billion).
Hoencamp took over the U.K. business at the end of last year after running the country's enterprise business and the Irish unit.
$31 Billion Bet
As the company makes a 19 billion-pound bet on its network over the next two years, building up broadband and TV services to add to its mobile plans, Vodafone still doesn't have a package offering Internet and video to U.K. consumers. A 1-billion-pound deal for Cable & Wireless Worldwide two years ago built up its business for corporate customers.
The U.K. market isn't ready for bundles of TV, web and mobile service, Hoencamp said. Still, he said, his focus is on offering bundled services to corporate customers.
"Enterprise is the biggest opportunity we have," he said. "the demand is clearly there."
Still, the investment plan -- which Vodafone has called Project Spring and is funded with cash from the $130 billion sale of its stake in U.S. mobile operator Verizon Wireless -- may be evidence that the company was underinvesting up until now, said Bengt Nordstrom, chief executive officer of Northstream AB, a consultant for mobile operators.
"We're talking about an operator that's been in possession of the operations for 20 or 25 years," Nordstrom said in an interview. "To say, 'Now we have money; now we should invest' doesn't make sense. Then they have underestimated the need for investment for a very long time."
First Network
Vodafone's U.K. business is its second-largest sales driver, accounting for almost 17 percent of revenue. Excluding the impact of acquisitions and currency changes, sales at the unit fell 4.4 percent in the fiscal year ending in March. Vodafone blamed the drop on a decline in enterprise spending and prepaid plans. Enterprise customers account for 40 percent of the company's service revenue in the U.K., the company said.
The division was formed in the 1980s and was the first cellular network to start service in the U.K. Since then, the mobile penetration rate in the country has reached 138 percent, according to the company's annual report.
The next logical step for Vodafone's growth may be a video offer, Nordstrom said. The company already has deals with British Sky Broadcasting Group Plc, Netflix Inc. and Spotify Ltd. to offer streaming music and TV shows to customers who use its high-speed fourth-generation mobile network.
Vodafone Group's CEO Vittorio Colao has said a deal with cable giant Liberty Global Plc, which would give the company TV pipelines across Europe, might make sense at the right price.
Still, Vodafone and Liberty aren't in discussions about a deal now, people familiar with the companies' plans have said. That's in part because Malone's price is too high, one of the people said, asking not to be named discussing confidential information. Liberty, with a market value of $33 billion, considers Vodafone a good fit because of its European footprint, the other person said.
Before it's here, it's on the Bloomberg Terminal.
LEARN MORE