Tom Ford Adds Shirts and Ties to His Online Offerings
by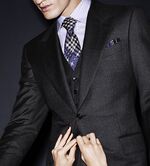 Snappy dressers take note: Tom Ford announced today it will be offering men's 'furnishings' -- aka accessories; we're talking neckties, not lounge chairs -- as part of its e-commerce platform. Although the brand will celebrate its 10th anniversary in 2015, it only entered the online marketplace in March 2014 with a limited selection of leathergoods, shoes, and beauty products for both men and women. Now, in addition to that alligator duffle we know you've been eyeing, ties, pocket squares, and shirts can be ordered from the comfort of your iPhone.
From top to bottom, the entire platform feels like walking into a Tom Ford advertisement. Selling clothing with models not wearing any is a strategy Ford has mastered. The product shots are clean and shot to white, making it easy for the consumer to eye the merchandise. And the colors are hyper-saturated, making it hard to look away. That the site seamlessly transitions from desktop to tablet to mobile shows that Ford understands consumers are increasingly turning to whatever device is at hand when that urge to shop hits. Shipping and returns are always included, and if you're in Manhattan you can have your new accessories same-day. This is as low-friction as possible.
Browsing the collection, a few highlights stand out immediately. The classic collar shirt with french cuffs ($575) and its classic fit (read: slightly roomier) cousin are the sort of stand-by formal shirts that every well-dressed guy needs in his closet. Ford, known for his elaborate use of checks and color, doesn't shy away from bold micro-print patterns -- but does it in a surprisingly versatile and conservatively acceptable way (our favorite: the purple micro-check). We also liked the raised textured knit tie ($220), which uses the silk yarn's natural chunkiness to create a subtle pattern that changes with the light. So if a purple shirt is a little too much for you, this is a perfect way to work in a colorful fall staple. That or a jaunty floral-print silk pocketsquare ($175).
Tom Ford furnishings available now at TomFord.com

Before it's here, it's on the Bloomberg Terminal.
LEARN MORE