Starbucks to Buy Rest of Japanese Unit for $913.5 Million
Leslie Patton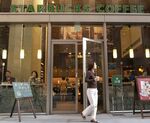 Starbucks Corp., the world's largest coffee-shop chain, agreed to buy the remaining 61 percent of its Japanese operations for about $913.5 million.
The deal will include buying a 40 percent stake from Sazaby League for about $505 million and the 21 percent owned by public shareholders for about $408.5 million, Seattle-based Starbucks said yesterday in a statement.
Starbucks, which gets more than 6 percent of revenue from its Asia unit, recently acquired the Teavana tea company and Bay Bread bakery to help attract customers with non-coffee items. In Japan, ready-to-drink beverages are profitable and selling well, presenting a strong opportunity for Starbucks, Chief Financial Officer Scott Maw said at an investor conference in June.
"We will be positioned to accelerate growth in a market that offers tremendous opportunity for us," Chief Operating Officer Troy Alstead said on a webcast yesterday. Store profit in Japan is among the highest of Starbucks' markets worldwide, he said.
Starbucks rose 1.8 percent to $75.32 at the close in New York. The shares have slid 3.9 percent this year.
The coffee seller formed a joint venture with Sazaby in 1995 and the first Japanese location opened in 1996 in Tokyo. There are now about 1,050 Starbucks stores in Japan, where green tea and dark mocha chip frappuccinos are sold.
Before it's here, it's on the Bloomberg Terminal.
LEARN MORE