Ruble Can't Shake Overvalued Tag Even After Selloff
Ye Xie and Elena Popina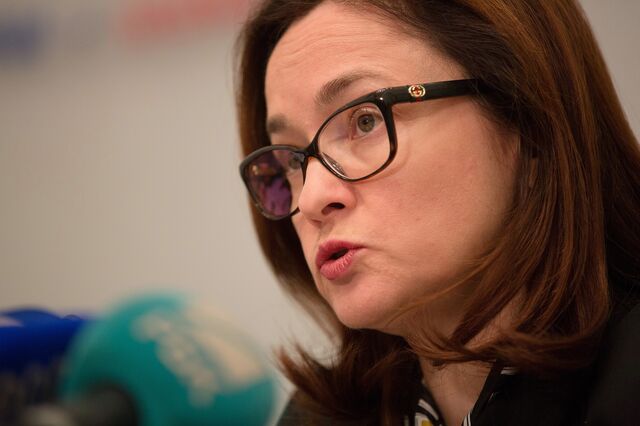 Even after plunging day after day for much of the past two months, the ruble remains overvalued by one key measure.
The inflation-adjusted exchange rate, measured against Russia's major trading partners, remains 26 percent above its 10-year average, according to data compiled by Barclays Plc. For an indication of how big a gap that is, consider that none of the so-called "fragile five" developing-nation currencies, which include Brazil's real and Turkey's lira, have deviations from their historical norms that are that large.
"The ruble is still overvalued," Win Thin, the global head of emerging-market strategy at private bank and brokerage Brown Brothers Harriman & Co., said by phone from New York on Sept. 19. "There's more room for decline."
The divergence from its long-term trend suggests the ruble, while hovering near a record low, hasn't fallen enough to boost the competitiveness of a country hurt by international sanctions from the Ukraine conflict, plunging oil prices and surging inflation. Russia is flirting with its second recession since 2009 while investors are pulling capital from the country at the fastest pace in four years.
The ruble has sunk 12 percent against the dollar since June 30, the biggest loss among more than 150 peers tracked by Bloomberg. It touched an all-time low of 38.8865 per dollar on Sept. 16, and traded at 38.6925 yesterday, a rate that is 35 percent weaker than its level six years ago. The ruble rose 0.2 percent to 38.6019 per dollar as of 12:27 p.m. in New York.
Real Value
The central bank's press service said in an e-mail to Bloomberg today that it would not comment on the ruble's valuation.
Central bank chairman Elvira Nabiullina told reporters in Moscow Sept. 12 that while there could be a shortage of dollars in the foreign-exchange market, policy makers have the tools necessary to address any problems that may arise. Four days later, the bank said it would provide $3 billion a day through foreign currency swaps to help meet demand for dollars.
The slump did little to diminish the ruble's value according to Barclays's Real Effective Exchange-Rate Index.
The measure for Russia's currency fell just 4.4 percent from a record high on June 26, after soaring almost 80 percent over the past decade as average annual inflation of more than 9 percent pushed up local production costs. The gauge is up 8 percent since mid-March, when U.S. and European Union sanctions for Russia's alleged troop incursions into eastern Ukraine started to bite.
'Fragile Five'
The "fragile five," a term Morgan Stanley coined in August 2013 to describe currencies of developing nations most vulnerable to capital flight, are less overvalued by the Barclays measure. South Africa's rand, India's rupee, Indonesia's rupiah and the lira are 8.7 percent cheaper on average than their inflation-adjusted rates for the past decade, while the real is 4.1 percent stronger, Barclays data compiled by Bloomberg show.
"The ruble faces a challenging environment with an escalation in sanctions, inflation risks skewed to the upside and oil prices declining," Morgan Stanley strategists including London-based Rashique Rahman said in a Sept. 15 note.
Morgan Stanley forecasts the ruble would weaken to 40 per dollar by the end of 2015. Options prices compiled by Bloomberg signal an 78 percent chance of that happening in the next six months. The median forecast of 42 analysts surveyed by Bloomberg was for the ruble to rise to 37.30 per dollar by March.
Russia is locked in the worst standoff with its old Cold War foes in more than two decades, with the third round of sanctions since the nation annexed Crimea in March limiting companies' ability to access debt markets and freezing the assets of businessmen close to President Vladimir Putin.
Ukraine Truce
While Ukraine said yesterday it may pull back artillery in its war-torn east to help cement a cease-fire, the tenuous truce has been hit by multiple violations since it took effect two weeks ago.
"Whether the ruble is cheap or not depends on what's going to happen in Ukraine," Simon Quijano-Evans, the London-based head of emerging-market research at Commerzbank AG, said by phone on Sept. 19. "If the turmoil continues, expectations of further sanctions remain in place. This will be the one main driver of ruble sentiment."
Since the central bank pledged to provide dollar liquidity on Sept. 16, global options traders have pared bearish bets on the ruble. The premium on three-month contracts giving the right to sell the currency over those allowing for purchases narrowed to 3.18 percentage points, from a four-month high of 3.72 points on Sept. 16, data compiled by Bloomberg show.
'Too Cheap'
A further easing of the conflict could trigger a rally in the Russian currency of as much as 8 percent, according to Michael Ganske, who oversees $8 billion in bonds and foreign exchange as head of emerging markets at Rogge Global Partners Plc in London.
"The ruble has cheapened up too much," Ganske said by phone on Sept. 19. "If the sanctions are revoked, there'll be a sharp turnaround for the ruble."
Russia said today it will hold the first ruble-denominated bond sale since July as the cease-fire has helped to reduce borrowing costs. The Finance Ministry will offer 10 billion rubles of notes due in August 2023 tomorrow. Ten-year bond yields fell six basis points to 9.48 percent, according to data compiled by Bloomberg.
Russia's problems, though, extend beyond Ukraine.
'Downside Risk'
Crude oil, which contributes about half of Russia's budget revenue together with natural gas, dropped below $100 a barrel this month for the first time in more than a year. The $2.1 trillion economy will grow 0.25 percent this year, the worst performance since it shrank 7.8 percent in 2009, according to the median forecast of 38 analysts surveyed by Bloomberg.
The ruble may also face downward pressure from the central bank's plans to let it trade freely by next year. Policy makers intervene in foreign-exchange markets to smooth the currency's fluctuations and keep it within a nine-ruble trading band versus a basket of dollars and euros. Russia's currency has slipped 2.8 percent in September versus the target basket, heading toward a third month of losses.
Investors are pulling out of Russia. Stock funds posted $78 million of outflows in the week ending Sept. 17, OAO Sberbank, the nation's biggest lender, said Sept. 19. Net capital outflows may reach $95 billion this year, the most since the depths of the global financial crisis in 2008, the central bank forecasts.
"There's a lot of downside risk still" for the ruble, Daniel Hewitt, a senior emerging-markets economist at Barclays in London, said by phone on Sept. 19. "There's no question that it could go further because geopolitics could get worse."
Before it's here, it's on the Bloomberg Terminal.
LEARN MORE