Republicans Give Obama a Pass on Islamic State, Even if No One Else Does
By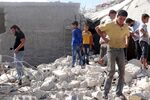 In the middle of an election season, Republicans haven't hesitated to attack the president on almost every topic imaginable, from jobs to the economy to his coal policy. On one topic, though, they've been remarkably restrained, staying quiet about the president's policy toward Islamic State in Syria. This is somewhat surprising, given that, in a recent NBC News/Wall Street Journal poll. just 32 percent of respondents approved of his handling of foreign policy. A number of media outlets predicted that a surge of Republicans ads would aim to capitalize on this area of weakness, but an analysis of televised political ads from CMAG shows that no such ad blitz has materialized.
Here's the breakdown of the top 15 subjects of political ads in Senate races:

And here's the same breakdown for House races:

Now that the U.S. has begun bombing Syria, those ads may start to materialize. Then again, maybe they won't. Republicans leaders such as House Speaker John Boehner (R-Ohio) have endorsed Obama's latest campaign. "ISIL is a direct threat to the safety and security of the United States and our allies," Boehner said of the group formerly known as Islamic State in Iraq and the Levant, according to a statement. "I support the airstrikes launched by the president, understanding that this is just one step in what must be a larger effort to destroy and defeat this terrorist organization. I wish our men and women in uniform Godspeed as they carry out this fight."
Before it's here, it's on the Bloomberg Terminal.
LEARN MORE