Life Could Be Easier for Burned-Out High School Guidance Counselors
By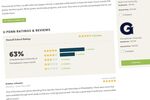 Last week, an Internet company called Campus Explorer launched an online service designed to help high school guidance counselors do their jobs. The new site lets students upload application information, search for schools, and generally handle more of the guiding and counseling themselves.
The service, which is called Campus Steps, also includes scheduling and case management functions that were built with overworked guidance counselors in mind. In case you were wondering, there are a lot of them.
U.S. schools employed 105,000 school counselors in the 2010-2011 school year, according to a survey by the Education Department covering public elementary and secondary schools. The average counselor is responsible for 471 students, according to the study, nearly double (PDF) what the American School Counselor Association recommends. "Guidance counselor's case loads are massive. Students pay the price," says Mark Eastwood, general manager for Campus Explorer's Campus Steps counseling service. The road to college, he adds, shouldn't get short shrift. "Choosing a college is up there with getting married or buying a home, as far as big life decisions go."
Campus Explorer, based in Santa Monica, Calif., was founded in 2007 and may be best known for an online matching service that gathers students' preferences for school size, location, and academic reputation and uses it to connect them with suitable colleges. Campus Explorer makes money by charging colleges for the ability to market to those students. Eastwood says the company is profitable, and consultancy Deloitte ranked the company (PDF) 51st on a list of North America's fastest-growing companies in 2013.
Counseling management tools aren't new. Nor is selling student info to college marketing departments, which use them to recruit potential students. The nonprofit organizations that administer standardized tests, meanwhile, have long raised revenue by selling the names of test-takers. Campus Steps' innovation is to use counseling software to generate leads to sell to colleges, using the proceeds from its lead-generation business to provide high schoolers and counselors with free software.
That sounds smart and—as with any website that sells your data to third parties—a little bit creepy. Though not necessarily creepier than your average high school guidance counselor.
 

Before it's here, it's on the Bloomberg Terminal.
LEARN MORE