Islamic State Hit by Biggest U.S.-Arab Coalition Since 1991
Alaa Shahine and Caroline Alexander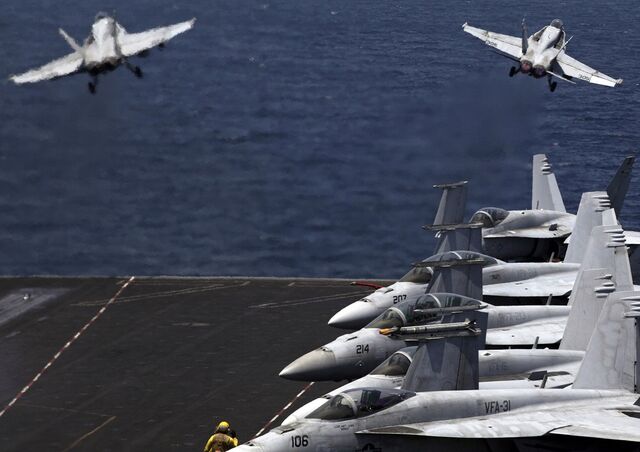 The bombing of Islamic State militants is being carried out by the broadest Arab-U.S. military coalition since the 1991 Gulf War.
Saudi Arabia, the United Arab Emirates, Jordan, Bahrain and Qatar all joined the first wave of U.S.-led airstrikes against the group in Syria yesterday. They're seeking to rein in militants who have rampaged through Syria and threatened to ignite a civil war in Iraq, where U.S. bombing began six weeks earlier. Arab backing provides crucial cover for President Barack Obama as he deploys military assets in a region where the U.S. has been accused of waging war on Islam.
"There's common interest to make sure that these guys are destroyed" before they make further advances, said Ghanem Nuseibeh, founder of Cornerstone Global Associates, which advises clients on risk in the Middle East.
In the past week, Islamic State has gained ground against Syrian Kurdish forces near the border with Turkey. Jordan has accused militants of plotting to attack it, and Saudi Arabia says they have tried to recruit members in the kingdom.
The strikes against the most powerful opposition force in Syria's civil war may benefit President Bashar al-Assad, whose removal is a declared goal for the U.S. and its Arab allies, and expose regional powers to retaliatory attacks by Islamic State, an al-Qaeda breakaway group. Still, the group's expansion has made "inaction even riskier for the region," Nuseibeh said.
'America's Fight'
Amid prospects for a lengthy military campaign, Saudi Arabia's Tadawul All Share Index fell 1.7 percent today, its biggest decline in three months.
Early yesterday, fighter jets, bomber aircraft and drones hit 22 Islamic State targets near their stronghold of Raqqa and along the Iraqi border, according to the U.S. military.
The mobilization of allies showed that "this is not America's fight alone," Obama said. The president met later yesterday with leaders of the five Arab nations that joined the attacks, as they attend a United Nations meeting in New York, and said he thanked them for their commitment to defeating "violent extremism."
Concerns have grown among Arab leaders as Islamic State declared a caliphate in the heart of the Middle East in an effort to redraw national boundaries set almost a century ago.
Since the 1991 war to force Iraqi soldiers out of Kuwait, in which Arab states also contributed ground troops, U.S. allies in the region have largely shied away from taking part in American military ventures there. Most of them publicly opposed the 2003 U.S. invasion of Iraq that toppled Saddam Hussein.
Symbolic Role
Their involvement in the attacks in Syria is militarily symbolic, Shashank Joshi, senior research fellow at the Royal United Services Institute in London, said by phone.
"It makes a political and strategic difference and shields the U.S. from accusations it's waging some kind of religiously motivated war," he said.
Jordan, Bahrain, Saudi Arabia and the U.A.E. confirmed their fighter jets took part in yesterday's strikes. Jordan said it acted in response to repeated attempts by militants to cross into its territory, according to the state-run Petra news agency. The fight against Islamic State "is not a stage of one or two days, but is a struggle to the end," Saudi Foreign Minister Prince Saud Al-Faisal was cited by the official Saudi Press Agency as saying. Qatar helped "in a supporting role," according to Rear Admiral John Kirby, a Pentagon spokesman.
Even Syria, which says it should be consulted over any strikes inside its territory, and its ally Iran, were muted in their response.
Partner Pledge
Assad said yesterday that his government supports "any international counterterrorism effort," though he didn't mention the U.S.-led strikes, the official news agency Sana said. Iranian President Hassan Rouhani told reporters in New York that his country didn't support action without the approval of the Syrian government or the United Nations, yet he didn't condemn the move.
The coalition fulfills Obama's pledge to seek partners in the campaign against Islamic State. For America's Arab allies, mostly ruled by absolute monarchs and armed with U.S.-made planes and weapons, it's the latest signal they are prepared to forge an aggressive foreign policy against jihadist movements and groups pursuing an Islamist agenda through elections.
'Alternative Authority'
Saudi Arabia and the U.A.E. have extended billions of dollars in aid to Egypt's military-backed government since the army led the ouster of Islamist President Mohamed Mursi in July last year. U.S. officials said the U.A.E. bombed Islamist militias in Libya last month, using Egyptian air bases as a launchpad. Egypt has denied its forces were involved, while the U.A.E. said claims of its intervention were an attempt to divert attention from political reversals suffered by Libya's Islamists.
Unlike in Iraq, where the U.S. has been backing government and Kurdish forces in the fight against Islamic State, the retreat of mainstream Syrian rebels under attack by both Islamist militants and troops loyal to Assad may limit the gains of the campaign across the border.
"There is no ground force in Syria to exploit the strikes," Joshi said. The attacks "can hit bases, training camps, vehicles on open terrain, but they can't clear Islamic State from cities, or replace it with some kind of alternative authority in these areas."
The U.S. and its allies have been split since the start of Syria's war in 2011 over which rebels were best placed to overthrow Assad, and some turned a blind eye as men and cash flowed to the more militant elements.
Islamic State will use the coalition attacks as a tool to recruit more fighters, said Andrew Hammond, Middle East policy fellow at the European Council on Foreign Relations.
The strikes may also move Arab nations up the list of targets, he said by phone. "Saudi Arabia has appeared in their rhetoric here and there, but now they are putting themselves in the firing line. It's a real risk they are taking."
Before it's here, it's on the Bloomberg Terminal.
LEARN MORE