Draghi's 'QE' Is Set to Drive Danish Rates Lower, Rohde Says
Peter Levring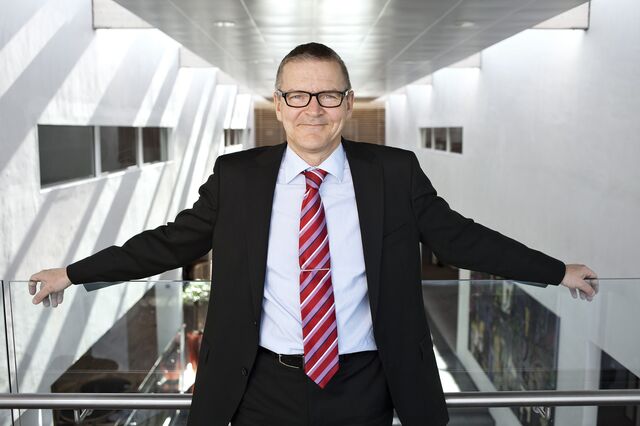 Lars Rohde, the governor of Denmark's central bank, said asset purchases by the European Central Bank that he characterized as "quantitative easing" will probably drive interest rates lower in the Nordic country.
Denmark, which only adjusts rates to defend the krone's peg to the euro, would potentially also face higher property prices as a result of ECB measures feeding through to the nation's mortgage market, Rohde said.
"We're not able to take into account the ECB asset purchases in our models," Rohde said yesterday in an interview in Copenhagen. "We're looking at the rate channel. However, it's obvious that if you are to guess if rates will go higher or lower from some quantitative easing program, we would guess they would go lower."
ECB President Mario Draghi unveiled his plan to purchase asset-backed securities earlier this month as part of a series of policy measures designed to revive growth in the euro area. In Denmark, the historic monetary stimulus program, which included rate cuts, has already forced the central bank to return to the negative rate regime it maintained during the darkest hours of Europe's debt crisis.
The extreme policy measures are already feeding through to Denmark's mortgage bond market, where short yields are set to drop below zero, according to Nordea Bank AB. Rohde said lower mortgage rates "can't be excluded."
The yield on Denmark's government note maturing in 2016 was little changed at minus 0.015 percent as of 11:21 a.m. in Copenhagen.
Tried, Tested
Since first experimenting with negative rates in July 2012, Denmark has grown more at ease with "tried-and-tested" extreme measures to guide its exchange rate, according to Danske Bank A/S. Economists at both Nordea and Svenska Handelsbanken AB have said Denmark may be forced to go deeper still into negative territory to keep pace with Draghi and defend the peg.
Denmark's central bank "can't rule out" that the country will revisit the market conditions that existed at the height of Europe's debt crisis in 2012, Rohde said. Back then, AAA rated Denmark emerged as an investor haven from the bond market turmoil raging further south.
"When we -- as we have displayed using forward rates -- expect a very long period of low rates, then this is exactly what has the potential to yield some very low rates in the capital markets and thus also impact the property market," Rohde said.
Before it's here, it's on the Bloomberg Terminal.
LEARN MORE