Diamond Dealers Face Loan Drought After Losing Bank
Thomas Biesheuvel and Andrew Clapham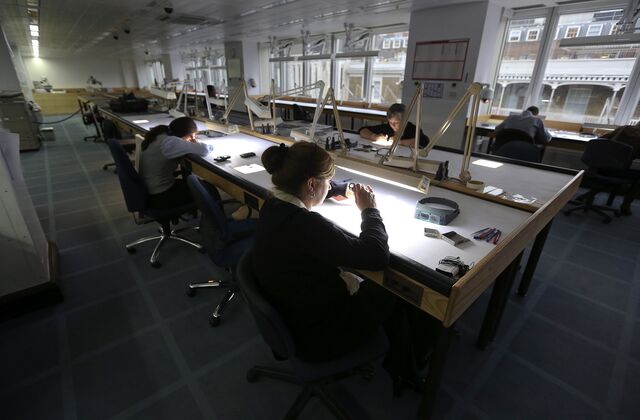 Antwerp's diamond dealers, who buy and sell 80 percent of the world's most valuable gemstones, have lost their bank.
The Antwerp Diamond Bank, a source of finance for 80 years to the network of companies that trade, cut and polish in the Belgian port city, will stop lending after a sale by KBC Groep NV to China's Yinren Group collapsed last week. It's likely to make loans scarcer in an industry that relies on debt to buy the dull, rough diamonds that are finished into jewelry.
"It cannot be good news for the diamond industry," said Charles Wyndham, a former sales director at diamond miner De Beers and founder of WWW International Diamond Consultants Ltd. "This was the only bank solely dedicated to the diamond industry and it's pulling out. Liquidity is a major issue."
Antwerp Diamond Bank, or ADB, accounted for more than 10 percent of the $15 billion diamond-finance market, removing funds from a market that was tightening lending terms. The institution's demise may weaken Antwerp's pre-eminent position in the global diamond industry as it competes with traders in lower-cost cities like Mumbai and Dubai.
About one-third of the city's diamond merchants are financed by the ADB, according to the group that represents traders, the Antwerp World Diamond Center. The Center said in a statement it was talking to industry participants about ways to replace the lost lending. Margaux Donckier, spokeswoman for the trade group, declined to elaborate.
"There is still room to find a solution, to keep the financing levels of the Antwerp diamond sector at market conform levels," the Center said.
Banks already said in April they had cut the proportion of gem purchases they were willing to finance. Amsterdam-based ABN Amro Bank NV said yesterday it will keep lending to Belgium's diamond industry, while working to make loans less risky.
Positive Outlook
"There is enough financing available in the market for the right companies," ABN Amro said in a statement. "Our long-term outlook for the diamond industry in general, and the sector in Belgium as well, is a positive one."
ADB's decision to stop making new loans may have already affected rough diamond prices. They fell 5 percent last week, the steepest weekly drop in two years, according to WWW International data.
"Antwerp's purchasing power is going to diminish relative to other centers, reducing its trading capacity," said Anish Aggarwal, a partner at Antwerp-based industry consulting firm Gemdax, which provides valuation advice for diamond miners. "There's also a symbolic aspect. The Antwerp Diamond Bank is one of the industry's most established and enduring players."
The bank was founded in 1934 in Antwerp's Diamantkwartier, the district that's been the center of the global trade since the mid-19th century. After shipping all its stones to the U.S. as the German army advanced in 1940, the bank helped revive the city's diamond industry after World War II.
Mining Costs
Until last week, the price of rough diamonds had increased 75 percent over the last five years as De Beers and other miners sought to recoup higher mining costs. That squeezed profit margins for dealers because the price of polished stones used in jewelry hadn't kept pace. Prices for polished diamonds have increased about 2.8 percent this year, according to PolishedPrices.com data.
KBC, based in Brussels and Belgium's largest lender by market value, was forced to sell the diamond bank as part of conditions imposed by the European Commission for receiving state aid in 2008 and 2009. After years of struggling to find a buyer, the bank announced last December the agreement to sell it to Yinren, a Chinese group that trades diamonds.
That deal fell through last week after Yinren had been unable to submit a comprehensive file to the Belgian regulator on time. What remains of ADB will be folded into KBC as its loan book is run down, the bank said last week.
"All isn't lost for Antwerp though at this stage, and finance is not the only driver of trading volume," said Gemdax's Aggarwal. Nonetheless, the Antwerp World Diamond Center "will need a structured plan to counteract this."
Before it's here, it's on the Bloomberg Terminal.
LEARN MORE