D'Souza Gets Probation for Skirting U.S. Campaign Limits
Bob Van Voris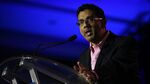 Conservative political commentator and author Dinesh D'Souza avoided prison after pleading guilty to illegally using straw donors to give money to a friend's U.S. Senate campaign in excess of the federal limit.
D'Souza, 53, was sentenced today in Manhattan federal court by U.S. District Judge Richard Berman to five years of probation, with the first eight months to be served in a community confinement center. Prosecutors sought a prison term of as long as 16 months.
D'Souza pleaded guilty in May just as he was to begin trial on charges that he reimbursed two close associates for contributing a total of $20,000 in 2012 to U.S. Senate candidate Wendy Long, a New York Republican and a friend from their time as students at Dartmouth College.
Federal law limits campaign contributions to $5,000 per individual in an election cycle. Long lost the race to the incumbent, Democrat Senator Kirsten Gillibrand.
D'Souza, of San Diego, claimed he was singled out for prosecution because of his opposition to President Barack Obama. The Federal Election Commission usually files civil claims in cases such as his, D'Souza said.
Nonbinding federal sentencing guidelines called for D'Souza to receive from 10 to 16 months imprisonment.
In addition to probation, D'Souza must spend one day a week teaching English to people who don't speak the language. Berman imposed a $30,000 fine and ordered mandatory psychological counseling.
'Fair Sentence'
"I'm just relieved and want to thank the judge for imposing a fair sentence," D'Souza said outside the courtroom.
During the 2 1/2-hour hearing, Berman called D'Souza's selective-prosecution claim "nonsense" and "spin." He also criticized media interviews given by D'Souza after his guilty plea in which he suggested he was singled out for punishment by the Obama administration. Berman played one interview, on Newsmax TV, in which D'Souza said, "We'll never know who decided to prosecute me and when."
"There is nothing about this case that was handled in a normal fashion," D'Souza's lawyer, Benjamin Brafman argued.
Berman rejected D'Souza's claim that he made a mistake and broke the law out of friendship for Long.
"That is neither friendship nor mistake," Berman said. "That's taking a staggering, enormous risk."
Support Letters
Berman, who was appointed to the federal bench by President Bill Clinton, said he received 27 letters in support of D'Souza, including one from conservative author and radio host Laura Ingraham, another Dartmouth graduate.
D'Souza's ex-wife, Dixie D'Souza, submitted a letter made public today saying he has a "flawed character and lack of truthfulness." She claimed in the letter that D'Souza gave Long $10,000, the maximum for a married couple, without her knowledge and that if he had gone to trial, she would have been a prosecution witness.
Brafman called Dixie D'Souza's claims "patently false." He urged Berman not to consider the letter.
"Never get sentenced if you're also going through a bitter divorce" Brafman said.
A 1983 graduate of Dartmouth, D'Souza served as a policy analyst for President Ronald Reagan and as a fellow at the American Enterprise Institute and the Hoover Institution at Stanford University. He was president of King's College in New York City from 2010 to 2012, according to his website.
Brafman wrote in a court filing that his client has lived an "otherwise extraordinary life."
The case is U.S. v. D'Souza, 14-cr-00034, U.S. District Court, Southern District of New York (Manhattan).
Before it's here, it's on the Bloomberg Terminal.
LEARN MORE