pursuits
Carnival's Recovery: Selling Lots of Drinks and More Cheap Cruises
By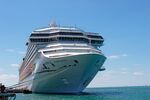 All the low fares for Caribbean voyages appear to be paying at least one dividend for the largest cruise operator. Bargain hunters aboard Carnival's ships have been springing for more of those tropical cocktails with tiny umbrellas—and those drinks aren't cheap.
Carnival noted that on-board spending jumped 10 percent in the most recent quarter, compared with that of the same period last year, part of a strong financial performance that spurred the company to raise its profit forecast for 2014. The results speak to a recovery for the Carnival brand that's "probably a little faster than we had any right to believe it would be, but at the same time it's not nearly fast enough for all of us," Chief Executive Officer Arnold Donald said on a conference call with analysts. He was responding to a question about the rebound of the company's namesake brand after a disastrous 2013 in which the Carnival Triumph suffered a fire and was stranded in the Gulf of Mexico. "We're pleased with it," Donald added, "but at the same time, we're not satisfied."
For many investors, however, the good financial news came with a dark cloud: higher costs expected to hit in 2015. Carnival is set to put much more of its fleet into dry-dock to install new exhaust gas cleaners—dubbed "scrubbers"—to comply with environmental regulations. The company is also using the time to add hardware that can increase the fuel efficiency of older ships. Carnival plans to complete upgrades to 42 ships by the end of its 2015 fiscal year; executives said the savings, which will depress earnings by 10 cents per share, will begin paying off in 2016. The scrubber outfitting is scheduled to conclude in 2017.
Carnival said its summer sailings in the Caribbean drew 20 percent more cruisers than a year ago, even though the industry had saturated the region with ship capacity for 2014, which depressed cruise prices. The company earned $1.2 billion, or $1.58 per share, topping the $1.44 average of analysts polled by Bloomberg. Revenue rose $221 million, to $4.95 billion, from a year earlier.
Shares were flat in midday trading, having gained 0.3 percent in 2014.
Carnival also said on Tuesday that it would relocate its chief operating officer, Alan Buckelew, to China to better lead the line's expanding operations in the country. Carnival executives expect China to become the world's largest cruising market within a few years.
Before it's here, it's on the Bloomberg Terminal.
LEARN MORE