Billionaires Increase Bet on Cement as Building Recovers
Adam Williams and Jonathan Levin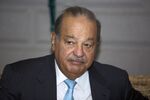 Billionaires Carlos Slim and Antonio del Valle are doubling down on the Mexican cement industry, wagering a demographic boom and government subsidies will sustain a homebuilding recovery after last year's collapse.
Elementia SAB, the Mexican cement maker backed by Slim and del Valle, agreed Sept. 19 to pay Lafarge SA $225 million for the 47 percent stake of cement maker Cementos Fortaleza it didn't already own. Hours later, Mexico City-based Elementia disclosed plans for an initial public offering, which will be used to fund expansion projects, according to a prospectus on the Mexican stock exchange's website.
"Across the sector, there's still a deficit in housing," Jose Roberto Solano, an analyst with Monex Casa de Bolsa, said yesterday in a telephone interview from Mexico City. "The outlook looks encouraging in terms of that opportunity."
Mexico's construction industry is rebounding from 18 consecutive months of contraction as residential builders recover from a liquidity crunch that forced a group of builders to default on bond payments in the first six months of 2013. Mexico will need millions of homes as the 25-50 year-old population is projected to grow 15 percent to 47.8 million people by 2030, Elementia, which gets 65 percent of its sales from housing and construction, said in its IPO prospectus.
Elementia's primary shareholders are Grupo Carso, controlled by Slim, Mexico's richest man, and Grupo Kaluz, controlled by billionaire del Valle's family. The company produces cement, metals, plastics and construction materials and has operations in nine countries, according to Musalem.
'Open to Acquisitions'
The Cementos Fortaleza acquisition will make the company a more serious national player, Eduardo Musalem Younes, Elementia's chief executive officer, said on a Sept. 22 conference call. Elementia, which had more than $1 billion in earnings last year, will now be the sole operator of Cementos Fortaleza's three production plants, which have production capacity of 2 million cement tons.
"We have made investments in plants that have increased our capacity for production, as well as acquisitions of companies that have allowed us to have sustained growth," Musalem said on a conference call yesterday.
The company is "always open to acquisitions" and would not limit future purchases or joint ventures to only Mexico, Musalem said. Elementia's IPO is still being analyzed and a decision on whether to list on the Mexican Stock Exchange will be made by October, he said.
Infrastructure Spending
Citigroup Inc, HSBC Holdings Plc, Banco Santander SA, Banco Bilbao Vizcaya Argentaria SA, Banco Ve Por Mas SA and Grupo Financiero Inbursa SA would manage the share offering, according to the prospectus. The preliminary filing to the Mexican Stock Exchange didn't say how much the company would seek to raise.
Buying out Lafarge will bolster Elementia's position in Mexico, where President Enrique Pena Nieto's development plan will probably benefit cement makers as infrastructure spending rises, Credit Suisse Group AG analysts led by Vanessa Quiroga said in a July 11 research note. Mexico's government has said that economic overhauls approved last year will attract investment and boost growth.
Cemex is the top cement maker in Mexico, with the capacity to produce 29.3 million metric tons a year, followed by Holcim, which can produce 12.2 million metric tons annually.
Airport Plans
Aldo Miranda, an equity trader at CI Casa de Bolsa, said Elementia may want to tap into increased infrastructure spending, an industry that represented 6 percent of Elementia's 2013 sales, according to the prospectus. Earlier this month, Pena Nieto announced plans to build a $9.1 billion airport in the nation's capital.
"I think Slim and del Valle are positioning themselves to take advantage of the construction of the new airport," Miranda said in an e-mailed response to questions. "As always, everything depends on valuation and price. But if it's in line with the market, obviously I'd invest because management and the opportunities that could emerge in Mexico are very interesting."
Cementos Fortaleza CEO Antonio Taracena said on the Sept. 22 conference call that the cement-maker doesn't plan to bid for the airport.
Mexico's low-income housing market crumbled after about a decade of urban sprawl. Mexico's housing industry will probably get back on track after defaults from Desarrolladora Homex SAB, Corp. Geo SAB and Urbi Desarrollos Urbanos SAB, Monex's Solano said.
With publicly traded builders reeling, some of the growth may come from small- and medium-sized builders, Solano said.
"There are small- and medium-sized builders that have had double-digit growth in recent years even in the context of the policy change," he said. "Obviously, they could benefit from increased growth."
Before it's here, it's on the Bloomberg Terminal.
LEARN MORE