Inversion Deal Crackdown Deflates Health Stocks
Caroline Chen and Simeon Bennett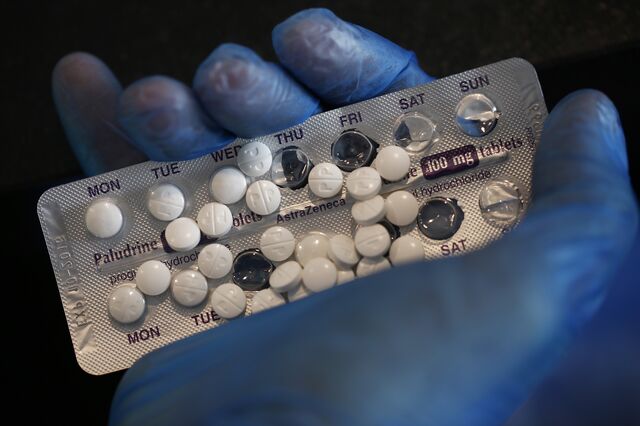 Health-care stocks fell en masse in the U.S. and Europe after the U.S. government put out rules designed at blocking cross-border, tax-reducing deals that have helped drive a record period of industry mergers and rewarded investors.
The deals have been led by U.S. companies seeking to avoid the developed world's highest corporate tax rate by buying foreign businesses and moving their tax address abroad. The U.S. Treasury rules, released last night, seek to slow or halt those transactions, or at least make them less profitable as a way of keeping the companies headquartered in the U.S.
Pfizer Inc., which this year attempted to buy AstraZeneca Plc and move abroad, fell less than 1 percent to $30.05 at the close in New York. AstraZeneca declined 3.6 percent to 4,414 pence in London.
"Clearly the prospects for an inversion transaction are now less likely," Alex Arfaei, a New York-based analyst at BMO Capital Markets, said of Pfizer in a note to clients today.
To execute a so-called tax inversion, U.S. companies need to buy a foreign operation, and the shareholders of the non-U.S. company need to make up at least 20 percent of the combined operation. Shares of companies that would benefit from the moves, or already have struck though not completed deals to do so, fell.
Industry Trend
Pharmaceutical companies have led the way in a period of tax-inversion deals that have caught the eye of U.S. policy makers. Eight inversion deals are pending today, five of which are drug or medical device deals, according to data compiled by Bloomberg. Three more such deals were completed this year in the industry.
AbbVie Inc., based in North Chicago, Illinois, has agreed to buy Shire Plc and move to the U.K. Its shares fell 2 percent to $57.56 in New York, while Shire dropped 2.5 percent. Medtronic Inc., which plans to buy Covidien Plc and move its legal address to Ireland from Minneapolis, fell 2.9 percent to $64.08. Covidien shares fell 2.5 percent to $88.11.
Smith & Nephew Plc, a British maker of artificial hips and knees that had been a potential target for Stryker Corp. of Kalamazoo, Michigan, fell 2.8 percent. Mylan Inc., which has a deal to acquire Abbott Laboratories' generic drugs unit, rose less than 1 percent to $46.61.
Lawmaker Attention
The wave of so-called inversions caught U.S. lawmakers' attention this year. Treasury Secretary Jacob J. Lew yesterday made clear that the Obama administration was prepared to use rule-making authority to try to stop some deals, even at the risk of a backlash from the companies and from Republicans, who already complained that Lew's moves went too far.
"Washington is playing for time," said Michael Leuchten, an analyst at Barclays Plc, in a phone interview. "It makes them look good and it allows Congress to maybe get its act together and do something on the legislative side."
The threat of government action is enough for some investors to doubt whether certain deals will happen, according to Leuchten. The risk of a deal falling apart on Shire has gone up by about 20 percent, based on the spread between the deal price and the current trading price, he estimates. He still expects the transaction to go through.
A spokesman for U.K.-based Shire said he had no comment, and a spokeswoman for AbbVie didn't respond to requests for comment.
Overreaction?
Leuchten called the sell-off of Shire excessive. "I don't think the inversion is important enough for the deal to break down," he said.
For future deals, the impact may be greater. Pfizer Chief Executive Officer Ian Read had cited the tax benefits as a reason to buy AstraZeneca and move Pfizer's tax base to the U.K. from New York.
Medtronic may become one of the biggest losers.
"Our initial read of the Treasury Notice leads us to believe that there could potentially be negative tax consequences for Medtronic," said Glenn Novarro, an analyst at RBC Capital Markets LLC, in a note to clients.
Part of the new rules would restrict inverted companies from taking loans from their foreign subsidiaries without paying U.S. taxes. This could particularly affect Medtronic, which has about $13.9 billion in cash and equivalents outside the U.S., the most among the eight companies with pending inversion deals.
Not Retroactive
Still, Medtronic "has recently said they remain committed" to the deal, said Novarro.
Conversely, as the rules are not retroactive and will not apply to deals that are already completed, a likely winner is Horizon Pharma Plc, which just last week completed an address change, known as an inversion, from Illinois to low-tax Ireland.
Cosmo Pharmaceuticals SpA also fell 8.2 percent on reports that Allergan Inc. had revived negotiations with Salix Pharmaceuticals Ltd. that began in July and was in advanced talks on an all-cash deal for the company, which is merging with Cosmo. Salix had planned to move its tax address to Ireland after the transaction with Cosmo. An Allergan deal would end Salix's planned merger with Cosmo, according to the Wall Street Journal.
Cosmo isn't party to any talks between Allergan and Salix, said Chris Tanner, the Lainate, Italy-based company's chief financial officer. "We continue working as if nothing ever happened," Tanner said by phone today.
Before it's here, it's on the Bloomberg Terminal.
LEARN MORE