Disney's 'Frozen' Rules Holiday Toy List
Matt Townsend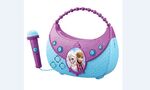 "Frozen" is still hot.
Two toys based off Walt Disney Co.'s hit animated film made Adventure Publishing Group's Toy Insider Hot 20 list released today, making it the only entertainment property with multiple items on the roster. Disney and its licensees had seven items on the list, a selection of toys Adventure's experts expect to top kids' wish lists during the holiday season.
Disney's Oscar-winning musical about two royal sisters in an icy kingdom was released on Thanksgiving last year and racked up more than $1 billion in global ticket sales, making it the fifth-highest grossing film of all time. The success caught toymakers by surprise, resulting in a dearth of related merchandise and creating a secondary market that saw "Frozen" dresses selling for more than $1,000 online. This holiday season, Disney and its licensees are better prepared, with plenty of inventory and products to satisfy fans.
"It's going to be a frozen Christmas, ice cold," said Laurie Schacht, president of Adventure Publishing, which produces toy-industry magazines. "The appeal is so broad, and it's such a wonderful story that parents are happy to put merchandise like this in their kids' hands."
The "Frozen"-themed items on this year's list are a singing, moving doll of the movie's protagonist, Elsa, as well as the Cool Tunes Sing-Along Boombox -- a small karaoke machine for the film's best-selling soundtrack. Both items retail for about $35.
'American Heartbeat'
Disney, the world's largest entertainment company, dominated the list with items from its in-house properties or from licensees. Among its toys on the Hot 20 are a Marvel character version of Disney Infinity, which combines action figures and video-game play, and a wheeled medical kit based on the Doc McStuffins cartoon.
"Disney is on the pulse of the American heartbeat these days," Schacht said.
Disney's shares have climbed 36 percent in the past 12 months. The stock dropped 1.1 percent to $88.31 at the close in New York today.
Other top toy lists also are released around this time of year by retailers including Wal-Mart Stores Inc. and Toys "R" Us Inc. While their selections often overlap with independent lists like the Toy Insider's, the retailers tend to have more items from the industry's major manufacturers, such as Mattel Inc. and Hasbro Inc. Toys "R" Us also said yesterday that it plans to add 45,000 seasonal employees to handle holiday traffic, the same number as last year
Mattel, the world's largest toymaker, had two toys on the Toy Insider's list, and Hasbro had just one. Lego A/S had a lone item as well, a construction set based on Star Wars, another Disney property.
Because technology has become such a big part of the toy industry, Toy Insider created a separate list for gadgets, which includes smartwatches from VTech Holdings Ltd. and LeapFrog Enterprises Inc. aimed at kids 4 years and older.
The Toy Insider's Hot 20:
(Manufacturer is in parentheses.)

Age 2 and Under:
Go! Go! Smart Animals Zoo Explorers Playset (VTech)
Laugh & Learn Smart Stages Chair (Mattel)
Let's Imagine Elmo (Hasbro)
Twista balance bike (Yvolution)

Ages 3-5:
11-Inch Interactive Talking Turtles (Playmates)
Disney Frozen Cool Tunes Sing-Along Boombox (eKids)
Disney Frozen Snow Glow Elsa Toddler Doll (Jakks Pacific)
Disney Princess Palace Pets: Magic Dance Pumpkin (Blip Toys)
Doc McStuffins Get Better Talking Mobile* (Just Play)
Paw Patrol Lookout HQ (Spin Master)

Ages 6-8:
Air Storm Firetek Bow (Zing Toys)
Ever After High Thronecoming Dolls (Mattel)
Razor Powerrider 360 (Razor)
Shopkins Small Mart Playset (Moose Toys)
Skylanders Trap Team (Activision)
Tsum Tsum Plush Collection (Disney)

Age 9 and Up:
Amiibo (Nintendo)
Disney Infinity: Marvel Super Heroes 2.0 Edition (Disney)
It's My Biz (Fashion Angels)
Lego Star Wars Rebels The Ghost* (Lego)

*Disney brand
Before it's here, it's on the Bloomberg Terminal.
LEARN MORE