Ravens Never Lobbied NFL Seeking Leniency for Rice, Owner Says
Erik Matuszewski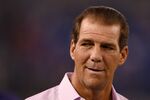 The Baltimore Ravens never lobbied the National Football League seeking leniency for Ray Rice, owner Steve Bisciotti said, and were surprised he initially received only a two-game suspension for domestic abuse.
Bisciotti spoke yesterday at a 47-minute news conference after the team issued a statement with a 15-response rebuttal to a Sept. 19 ESPN story that said there was a pattern of misdirection or misinformation by the Ravens in the Rice case.
Bisciotti said Rice, 27, won't play again for the Ravens, but said he still thinks the running back could one day work for the organization in an off-the-field capacity.
"People that redeem themselves are the best ones to lead others," Bisciotti said. "I believe that this was Ray's one terrible moment. I had all the faith in the world that if he could never get hired by the NFL again that he's going to go on to bigger and better things. I believe in my heart that Ray would be a great addition to us when it comes to steer these guys."
A video of Rice dragging fiancee Janay Palmer's limp body from an elevator at an Atlantic City casino was released by the website TMZ four days after the Feb. 15 incident. That video didn't show the confrontation between Rice and Palmer, and NFL Commissioner Roger Goodell suspended Rice, who led the Ravens in rushing the past five years, for two games on July 24.
Goodell banned Rice indefinitely two weeks ago after in-elevator video of Rice punching Palmer became public. The Ravens released Rice hours after the video went public on TMZ -- almost seven months after the initial incident.
ESPN's story, citing four people who were not identified, said Ravens executives, in particular Bisciotti, President Dick Cass and General Manager Ozzie Newsome, urged Goodell to give Rice no more than a two-game suspension.
Bisciotti said the Ravens only sent a letter to the NFL vouching for Rice's character early in the process.
Team's Expectation
"I don't think the league would take too kindly to us badgering them," Bisciotti said. "I didn't care if it was going to be a precedent-setting four or six game suspension. I would have begged Ray not to appeal it. I expected four or six games. I was as surprised as everybody else that it was two."
Bisciotti said again that the team's "big fail" was not continuing to try to get a copy of the video after Rice was indicted in March by a grand jury on a charge of third-degree aggravated assault. He said it was a simple decision for the team to stand down and let the legal investigation run its course, as Rice had initially been charged with simple assault-domestic violence.
Bisciotti's Regret
"I feel regretful now because in my heart of hearts, if we had gotten the tape early on in the spring and Roger had seen it, then I think it would have been a precedent-setting suspension -- multigame, maybe eight-game or indefinite," Bisciotti said. "I think it would have been something significant. That would have been taken out of our hands as a team. We would have waited for Ray's reinstatement and then maybe we wouldn't have had to make a decision right then and there to cut him."
Rice has appealed his indefinite NFL suspension.
ESPN reported that hours after the Feb. 15 incident, an Atlantic City police officer described the surveillance video he was watching to Darren Sanders, the Ravens' director of security. Sanders relayed the contents to team executives in Baltimore, according to ESPN, which said it interviewed more than 20 people over an 11-day period, including Ravens officials, current and former league officials, NFL Players Association representatives and friends of Rice.
'Didn't Jive'
"What's obvious is that the majority of the sources are people that work for Ray," Bisciotti said at the news conference, mentioning Rice's lawyer and friends. "They are building a case for reinstatement. The best way to build a case is to make everyone else look like they're lying. Their accusations didn't jive with what we knew was fact."
Sanders said in the Ravens' statement that he wasn't told about the details on the in-elevator video until about 10 days after the incident and that they weren't specific.
"The officer could not tell from the video whether Ray slapped or punched her, but Ray told me very clearly that he did not punch her," Sanders said, according to the Ravens. "It was not clear from the officer's account whether it was being intoxicated, being hit, or hitting her head against the railing that caused Janay's apparent unconsciousness."
The NFL and the Ravens have said repeatedly that they didn't see until two weeks ago the video of Rice punching Palmer, who is now his wife. ESPN said Rice, after the incident, told Ravens executives and Goodell that he had punched Palmer that night in the elevator.
Denied Punch
"Ray told me he slapped her," Sanders, the Ravens' director of security, said in the team statement. "He denied punching her."
Ravens coach John Harbaugh disputed ESPN's claim that he immediately wanted to cut Rice. Harbaugh was overruled at the time by Bisciotti, Cass and Newsome, according to ESPN.
"I did not recommend cutting Ray Rice from the team after seeing the first videotape," Harbaugh said. "I was very disturbed by that tape, and I told people that the facts should determine the consequences. When I saw the second videotape, I immediately felt that we needed to release Ray."
One of Rice's friends told ESPN that the day Rice was released by the Ravens, Bisciotti sent the player two text messages, one saying he loved having Rice on the team and wishing him and Palmer the best of luck, and the second saying Rice would have a job with the Ravens helping young players get acclimated to the NFL when he was done with football.
Bisciotti said he did have an exchange of text messages that Rice initiated and that they weren't meant to encourage Rice to stay silent in exchange for future employment.
'Good Person'
"I believed he was, at heart, a good person, that he was capable of redemption, and I wanted to tell him I would be supportive of him," Bisciotti said. "I cannot believe that Ray ever thought I was suggesting he keep quiet, when he got the texts later on."
Before it's here, it's on the Bloomberg Terminal.
LEARN MORE