pursuits
Harman Still Wants to Be the NBA's Headphones, Even if Players Prefer Beats
By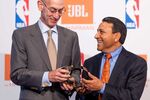 Headphones and professional basketball players are a natural marketing fit. Even if LeBron James can't wear his Beats by Dre gear on the court, there are plenty of opportunities for the NBA star and others like him to be seen wearing easily recognizable headphones before and after the game (and, of course, in TV commercials).
Now a rival, Harman International, is ready to move into the arena via a marketing and merchandise deal with the National Basketball Association. And the newcomer isn't intimidated by the combined power of Dr. Dre, King James, and Apple, which purchased Beats Electronics in May for more than $3 billion.
Harman isn't trying to cut the ties between Beats and the other top NBA players who join James in endorsing the headphones. "Honestly," says Ralph Santana, Harman's chief marketing officer, "that didn't factor into our decision at all." Harman's approach to promoting its JBL consumer brand "goes beyond players wearing headphones," although Santana says the company will soon announce several deals with individual players. The NBA's deal with Harman doesn't affect players' choice of audio gear, a league spokeswoman said.
The Harman partnership covers team- and player-branded audio products at games as well as branding for the NBA's public address systems, which Harman's professional audio division supplies for 16 of the league's 29 arenas. "It's so much bigger than headphones," Santana says. "In the grand scheme of audio, [headphones] is a small piece."
Still, Beats has become dominant in the almost $2 billion headphone market and inspired a slew of fashion-conscious imitators. And it's clear Beats made a lucrative contribution to the industry simply by persuading millions of consumers that $300-plus is a logical sum to spend on headphones.
The first test of the new deal comes Oct. 11 at an NBA preseason game in Rio de Janeiro. Harman plans to put samples of its higher-end JBL headphones—player seeding—on the teams' charter planes. It's a safe bet James will be watching closely: His current and former teams are playing.
Before it's here, it's on the Bloomberg Terminal.
LEARN MORE