Britain's Labour Party May Be the Biggest Loser In Scotland's Referendum
By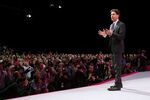 Scotland's vote to remain in the United Kingdom has yielded an unexpected political dividend for Prime Minister David Cameron by putting the opposition Labour Party in a potentially no-win situation.
Shortly before the Scottish referendum on Sept. 18, Labour leader Ed Miliband joined Cameron in promising expanded autonomy and fiscal powers to Scotland's Parliament as an inducement to stay in the U.K. That pledge stirred angry protests from England, since Scottish members of the House of Commons in London would still be able to vote on matters affecting only England, while non-Scottish lawmakers would have no say on legislation in Edinburgh.
In response, Cameron now has promised fast-track action to enhance the powers of English lawmakers and to bar their Scottish colleagues from voting on some issues affecting England.
That creates a serious quandary for Labour. Parliamentary elections are coming up next year, and current polls show Labour is running slightly ahead of Cameron's Conservatives. But with anti-Scottish resentment running high, Labour risks alienating English voters and losing its shot at a parliamentary majority, if it doesn't agree to a plan to shut Scottish lawmakers out of some votes. The dilemma: Without the participation of overwhelmingly Labour Scottish lawmakers, the party probably couldn't muster enough votes to pass key legislation.
Labour "could have a parliamentary majority but a minority on English health and education policy," Philip Cowley, a professor of politics at Nottingham University, tells Bloomberg News. That would greatly diminish Labour's influence in policymaking, since England accounts for more than 90 percent of the U.K. population.
Miliband has criticized Cameron for moving too rapidly on the issue, saying the Prime Minister was trying to "drive our country apart." But the Labour leader hasn't presented a plan of his own, to the dismay of some within the party who say he must address the dissatisfaction in England. "Labour seems to have been caught like a rabbit in the headlights," says Ed Jacobs, a political consultant in Leeds who advises Labour candidates.
Cameron has wasted no time in capitalizing on the situation. "The challenge to Labour and Ed Miliband is clear: Either resolve this issue with us, or explain to the people of the rest of the U.K. why they shouldn't have the same powers as we are rightfully devolving to the people of Scotland," he wrote in the Mail on Sunday newspaper over the weekend.
On the other hand, some leaders of Cameron's Conservative Party say the prime minister has set an unrealistic timetable to agree on new parliamentary voting arrangements by January. That "strikes me as blisteringly fast, when you consider the gravity of the matters at stake," London Mayor Boris Johnson wrote in the Daily Telegraph. "It is just bonkers to say that it can be done overnight."
Before it's here, it's on the Bloomberg Terminal.
LEARN MORE