Accused White House Fence Jumper Was Out on Bail
Andrew Zajac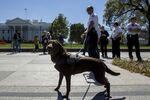 The man accused of jumping the White House fence and rushing through the front entrance was free on bail at the time for a weapons charge in Virginia and had been questioned by the Secret Service for walking near the executive mansion with a hatchet in his pants, prosecutors said.
Omar Gonzalez, 42, an Army veteran who served in Iraq, appeared in court today in Washington in connection with the Sept. 19 incident, charged with unauthorized entry of a restricted area while carrying a weapon. The charge carries a maximum sentence of 10 years in prison. He was ordered held without bond.
A search of Gonzalez's vehicle after the fence-jumping incident turned up more than 800 rounds of ammunition in boxes and magazines, two hatchets and a machete, according to David Mudd, an assistant U.S. attorney. Mudd didn't mention any firearms in connection with that search.
The case was one of two weekend security breaches which spotlighted the challenges facing the Secret Service in permitting some visual and physical public access to the White House grounds while safeguarding the president. President Barack Obama and his family weren't home at the time of either incident.
3.5-Inch Knife
Gonzales had a 3.5-inch (8.9-centimeter) knife with a serrated blade in his pants' pocket when he was apprehended inside the front door of the executive mansion, according the criminal complaint in his case.
Mudd also told the court that Gonzalez was detained and questioned by the Secret Service, though not arrested, on Aug. 25 when he was spotted walking along the south fence of the White House with a hatchet in the waistband of his pants. A search of his car at that time turned up camping gear and two dogs.
In the Sept. 19 incident, Gonzalez told a Secret Service agent "that he was concerned that the atmosphere was collapsing and needed to get the information to the president of the United States so that he could get the word out to the people," a Secret Service agent said in the complaint.
U.S. Magistrate Judge John Facciola referred to that statement when he asked Mudd and David Bos, Gonzalez's attorney from the federal public defender's office, if an insanity defense might factor in the case.
"Absolutely not," Bos said. "There is no basis for that."
Flight Risk
Prosecutors said Gonzalez is a flight risk in part because he's homeless.
"We also believe he is a danger to the president," Mudd said.
Gonzales, clad in an orange prison jumpsuit, gave his name and otherwise said little during the 15-minute hearing.
His dash for the front doors began at about 7:19 p.m., just minutes after Obama and his two daughters left for a weekend at Camp David, the presidential retreat in northern Maryland, where First Lady Michelle Obama was waiting.
In the earlier in case in Virginia, police found Gonzalez in possession of 11 rifles, shotguns and handguns. He was charged in connection with one of the weapons, a sawed-off shotgun, which is illegal to possess in Virginia.
The other guns were taken for safekeeping, according to an e-mail from Corinne Geller, public relations director of the Virginia State Police.
$5,000 Bond
Gonzalez was released on $5,000 bond on July 26, a week after his arrest, according to William Winters, an assistant commonwealth's attorney for Wythe County in southwest Virginia, where the case was filed. State prosecutors filed papers today to revoke the bond in light of the incident in Washington, Winters said.
Gonzalez was charged with the sawed-off shotgun count and with eluding police following a chase that began shortly after 9 a.m. on July 19 in Wythe County, according to prosecutors.
He was pulled over after being spotted driving erratically in a 1996 Ford Bronco, according to a press release from the state police. Gonzalez continued for more than 20 miles (32 kilometers) after a state trooper activated his emergency lights, police said in the release.
In addition to the guns, authorities also found a map "with writing and a line drawn to the White House," according to a copy of the state police evidence list.
Masonic Tower
In court today, Mudd described a map seized in the July incident as having been tucked in a Bible with circles drawn around the White House and the Masonic tower, a landmark in Alexandria, Virginia. It was unclear if he was referring to the same map.
Gonzalez served in the Army from July 1997 until September 2003 and again from July 2005 until he retired with the rank of sergeant in December 2012.
A summary of his record offered by the Army included a statement that the conditions under which Gonzalez was discharged couldn't be described because of privacy rules.
Gonzalez served in Iraq from October 2006 to January 2008 and his decorations included an expert marksmanship badge, according to the summary.
In the second White House breach, Kevin Carr, 19, of Shamong, New Jersey, was charged with a misdemeanor count of unlawful entry following an incident on Sept. 20. He faces a maximum sentence of 180 days in jail and a fine of as much as $1,000.
Busy Gate
Carr was arrested after trying to drive his car through executive mansion's 15th Street gate. The entrance, near the White House visitor center, is one of the property's busiest, and nearby streets were closed for an hour.
District of Columbia Superior Court Magistrate Judge Karen Howze released Carr on his own recognizance pending an Oct. 21 hearing.
Appearing on foot, Carr told security personnel that he had a noon appointment with the president and communicated frequently with him and Russian president Vladimir Putin via telepathy, according to a charging document in his case.
Carr told investigators that his grandparents, with whom he lived, said he had been acting strangely and sent him to a therapist. He said he didn't have mental health issues or take medication.
Carr was turned away and minutes later turned up at a different entrance in a white Chevrolet Cruze claiming to have an appointment with the president. He was arrested after failing to follow instructions about where to park his car.
Howze ordered Carr to stay away from the White House.
The fence-jumping case is U.S. v. Gonzalez, 14-mj-00576, U.S. District Court, District of Columbia (Washington). The Carr case is U.S. v. Carr, 14-cmd-016782, Superior Court for the District of Columbia (Washington).
Before it's here, it's on the Bloomberg Terminal.
LEARN MORE