A Rare Conviction for Food Execs in Deadly Salmonella Outbreak
By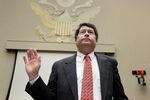 When a salmonella outbreak killed nine people and sickened more than 700 in 2008 and 2009, federal investigators traced the contamination to a Georgia peanut plant. On Friday the owner of the plant, Stewart Parnell, was convicted of fraud, and his brother, Michael Parnell, was convicted of conspiracy. It's the first time executives have gone to trial in a food poisoning case and, now, the first time they could go to jail on felony charges.
The salmonella outbreak prompted one of the largest food recalls in U.S. history. Inspectors shut down the Georgia plant in 2009, and Parnell's company, Peanut Corporation of America, went bankrupt; victims who filed claims against the company got $12 million. Federal prosecutors filed charges against the Parnell brothers last year, accusing them not of killing anyone but of defrauding customers. Peanut Corp. supplied peanut paste to many big food companies, Kellogg's among them.
Stewart Parnell was convicted of knowingly shipping bad peanut butter to customers. He and his brother, a food broker, were also found guilty of faking the results of lab tests that were supposed to screen for salmonella. The prosecutors referred to a particularly damning e-mail: After learning that a shipment would be delayed because the lab results weren't in, Stewart Parnell wrote: "Just ship it. I cannot afford to [lose] another customer."
The description of the plant is pretty sickening, too. According to prosecutors, federal inspectors had found evidence of bugs and rodents, the roof leaked, and a peanut roaster that was supposed to kill salmonella wasn't always heated to the proper temperature.
After the outbreak and the recall, the Food and Drug Administration strengthened safety requirements for farms and production facilities. This case was particularly egregious, though. More often, contamination goes undetected until there's a problem.
U.S. marshals escorted the Parnell brothers from the courthouse in Albany, Ga., to the Crisp County jail after their conviction. No date for their sentencing has been set, but they each face the possibility of some 20 years in jail.
Before it's here, it's on the Bloomberg Terminal.
LEARN MORE