A 25 Basis-Point Polish Rate Cut? Too Puny. We'll Take 50
Maciej Onoszko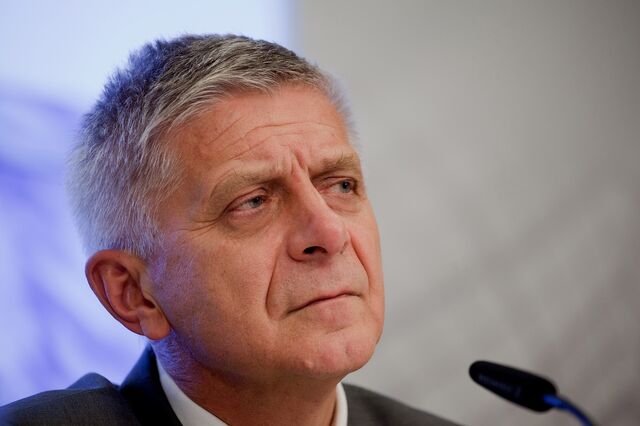 While Poland's central bank rejected a 50 basis-point cut in interest rates three weeks ago, a surprise drop in industrial output is fueling speculation a reduction of that size could occur as soon as next month.
Forward-rate agreements, contracts used to speculate on borrowing costs, showed bets for 50 basis points of easing over three months on Sept. 19, data compiled by Bloomberg show. The yield on Poland's two-year zloty note dropped to a record low today, narrowing the gap over similar-maturity German securities to the least since 2007.
Policy makers voted on a half-point cut for the first time in 15 months at their Sept. 3 meeting, when they kept rates at a record-low 2.50 percent, central bank minutes published Sept. 18 showed. Since the decision, reports showed consumer prices fell from last year for a second straight month and production shrank for the first time since May 2013 as stagnation in the euro region and the conflict in Ukraine weighed on economic growth.
"The probability of a 50 basis-point cut in October rose sharply," Miroslaw Budzicki, a Warsaw-based fixed-income strategist at PKO Bank Polski SA, Poland's largest lender, said by phone Sept. 19. "Leading indicators in the euro area are significantly lower, raising doubts over growth prospects."
Cuts 'Soon'
The bank's Monetary Policy Council voted against both a half-point and a quarter-point reduction in rates at their last meeting, after which central bank Governor Marek Belka said cuts in borrowing costs were "very probable." Policy maker Elzbieta Chojna-Duch told TVN24 BiS on Sept. 17 that the rate panel should lower its main rate by 50 basis points at its next meeting on Oct. 8.
"The minutes clearly point to a rate cut soon," Mai Doan, a London-based emerging markets economist at Bank of America Merrill Lynch, wrote in a report Sept. 19. "With the weak industrial production reading for August, we believe the council is ready for 50 basis points" of easing next month, Doan said.
Cutting interest rates by 50 basis points in October is "justified" and there's "much more" room to cut further, MPC member Jerzy Osiatynski told PAP today, adding he favors lowering borrowing costs in two moves before stabilization.
Fellow council member Andrzej Rzonca said easing would undermine economic stability. The effect of a cut would only be seen by "the time the economy is accelerating again, creating a risk of overheating," he was quoted as saying by Reuters on Sept. 15.
Falling Yields
Three-month zloty forward-rate agreements traded more than 48 basis points below the Warsaw Interbank Offered Rate at 4:12 p.m. in Warsaw, indicating scope for almost two quarter-point reduction this year. The yield on Poland's two-year zloty government bond dropped three basis points to a record 1.98 percent today, down 105 basis points this year. The spread over equivalent bunds dropped to 205, the least since November 2007.
Poland's consumer prices fell a record 0.3 percent in August from the same month last year after dropping below zero for the first time since at least the 1980s in July. Industrial output declined 1.9 percent last month from a year earlier as motor vehicle-manufacturing slumped 37 percent.
"We expect two cuts in rates, by 25 basis points in October and November," Adam Antoniak, a senior economist at UniCredit SpA's Polish unit Bank Pekao SA in Warsaw, said by phone on Sept. 18. "But the balance of risks is tilted toward deeper cuts."
Before it's here, it's on the Bloomberg Terminal.
LEARN MORE