LVMH Dealmakers Pair Dumplings With Dom Perignon in Asia
Joyce Koh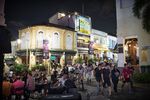 LVMH Moet Hennessy Louis Vuitton SA's private-equity arm, which bought a rooftop bar and dim sum restaurant chain in Singapore this year, is seeking more investments in the region to gain from rising consumer spending.
L Capital Asia sees opportunities in Singapore's food and beverage, entertainment and beauty-care industries because the city has a large expatriate population and tourist flows, according to Sanjay Gujral, L Capital Asia's regional managing director. The firm, backed by the largest luxury-goods maker, is also looking for potential tourism and hospitality deals in countries such as Thailand and Vietnam.
"Southeast Asia has all the characteristics of a developed market like a strong regulatory framework, but at the same time, it also has a fast-growing middle class," Gujral said in an interview in Singapore last week. The region "stacks up strongly in terms of deal flow."
Private-equity dealmaking in Southeast Asia should grow faster than the rest of Asia Pacific this year, according to Bain & Co. L Capital Asia, set up in 2009, has expanded beyond an initial focus on China and India to also look at investment opportunities in places like Southeast Asia, Australia, Korea and Japan.
L Capital Asia is backed by LVMH, billionaire chairman Bernard Arnault's family holding company and Malaysia's YTL Corp. It raised $1 billion for its second Asian private-equity fund last year, after pulling $637 million for its first fund in 2010. Discussions about a third fund will likely take place in two years, Gujral said.
Charles & Keith
The firm invested in Singapore-based shoemaker Charles & Keith Group in 2010 and Australian gourmet food emporium Jones the Grocer in 2012. This year L Capital Asia bought stakes in the Crystal Jade Culinary Concepts Holding Pte restaurant chain, known for its steamed dumplings and spicy noodles, and Ku De Ta Group, which operates the 57th-floor bar at the top of Singapore's Marina Bay Sands hotel.
The investments may benefit after the number of tourists visiting Singapore monthly surged 60 percent in the five years through July to reach 1.4 million, data compiled by Bloomberg show. Singapore ranked as the third most-favored expat destination in a survey released in October last year by HSBC Holdings Plc.
"There is now a large group of private-equity investors in this region, experienced in finding deals and making money by exiting their investments," Suvir Varma, head of Bain's Asia-Pacific private-equity practice, said by e-mail. "This positive cycle of returns will spur further investment."
Backing No. 1
Southeast Asia's economy will expand 5.4 percent in 2015, after growing 4.7 percent this year, the Asian Development Bank forecast in July. Private-equity firms made $3.4 billion of investments in the region in the first half of this year, almost 70 percent of 2013's total deal value, according to Bain.
L Capital Asia hired Christina Teo from Deutsche Bank AG in 2012 to lead its investments in Southeast Asia, Australia and New Zealand. The typical investment for its second fund will probably be about $80 million, twice the average deal size from the first fund, Gujral said.
The firm seeks to at least double the sales of companies it invests in and increase their profits by three to five times over the investment period of four to five years, according to Gujral. L Capital Asia helps its portfolio companies boost their product offerings and distribution networks with LVMH's support, he said.
"We want to be working with the market leaders and just help them grow faster, more profitably," Gujral said. "If you're not backing number 1, 2 or 3 in an industry, why bother? We are very clear we don't want to be playing the game of turnarounds."
'Gangnam Style'
After investing in Crystal Jade, the fund will explore ways for it to improve the beverage offerings at its fine dining outlets including with selections from LVMH's stable of brands, which encompass champagne maker Dom Perignon and California's Newton Vineyard winery, according to Gujral.
Earlier this month L Capital Asia agreed to invest $80 million in South Korea's YG Entertainment Inc., the music company that manages artists including Psy, the singer of "Gangnam Style." YG plans to work with the private-equity firm to develop cosmetics and fashion businesses as it expands in Asia.
"We come in to help them create the intangible," Gujral said. "The foreign brands are expanding aggressively into the Asian markets, and the Asian entrepreneurs need to step up and ensure they are ready for the challenge."
Before it's here, it's on the Bloomberg Terminal.
LEARN MORE