Khodorkovsky Redux Concern Falling Short in Russia Market
Halia Pavliva and Elena Popina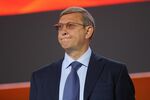 Last week's detention of Russian billionaire Vladimir Evtushenkov immediately sparked comparisons to the 2003 arrest of Mikhail Khodorkovsky that led to the dismantling of the oil company he founded.
While the analysts and political pundits making the connection may be proven right in the end, stock investors aren't convinced that the concern is justified.
Russia's benchmark Micex Index retreated 3.1 percent in the first three days after Evtushenkov was put under house arrest Sept. 16 on suspicion of money laundering, less than half the 7 percent plunge that followed the jailing of Khodorkovsky. Strip out the moves in the stocks controlled by the two billionaires - - Khodorkovsky's Yukos Oil Co. and Evtushenkov's three companies -- and the gap between the Micex losses then and now are 3.5 percent versus 1.9 percent.
"Sistema's case is very different from Yukos, because that one had a political aspect to it," Alexander Branis, chief investment officer at Prosperity Capital Management Ltd. said by phone on Sept. 19. "I don't see political a component in Evtushenkov's case. It seems to be about privatization techniques and AFK Sistema will prove it's a bona fide purchaser."
Evtushenkov, the richest Russian to face criminal charges since Khodorkovsky, was charged with money-laundering on Sept. 16, triggering a selloff in shares of his companies and slicing his net worth by a third to $4.3 billion, according to the Bloomberg Billionaires Index. His holdings include AFK Sistema, an investment company, OAO Mobile TeleSystems, Russia's largest mobile-phone operator, and OAO Bashneft, the country's sixth-largest oil producer.
Conflicting Reports
Confusion reigned on Sept. 19 when an official at Sistema, speaking by phone and on condition of anonymity, said that Evtushenkov had been freed. Mikhail Shamolin, Sistema's chief executive officer, confirmed the release to Interfax before being contradicted by Vladimir Markin, a spokesman for the investigative committee, who said by phone that a probe continues and that the house arrest is still in effect. Evtushenkov, who has denied the charges, later confirmed to state-run RIA Novosti that he wasn't released.
Global depositary receipts of AFK Sistema gained as much as 25 percent in London on Sept. 19 after reports of Evtushenkov's release, then gave up two-thirds of the jump as the report was denied, closing 7.9 percent higher at $12.95. Trading volume was more than five times the 90-day average, data compiled by Bloomberg show. The stock had plunged 43 percent in the previous two days and ended the week with a 37 percent tumble, the biggest weekly drop since October 2008.
Trading Suspended
American depositary receipts of Evtushenkov's Mobile TeleSystems, also known as MTS, declined 11 percent last week to $16.85 in New York, the most in three years. Shares of Bashneft plummeted 26 percent in Moscow last week to 1,403 rubles, or $36.51, the lowest level since January 2012.
MTS said in a statement released after the market close in New York on Sept. 19 that in accordance with new Russian laws trading in its shares will likely be suspended on Sept. 25 due to a corporate reorganization. Trading "should fully resume" on Oct. 3 and the law has no impact on trading on foreign exchanges, the company said.
Shortly after Khodorkovsky's arrest in 2003, prosecutors then froze a controlling stake in Yukos, deepening a selloff that saw the Micex tumble 26 percent in a month as about $34 billion of market value was erased from Russian stocks. President Vladimir Putin's spokesman Dmitry Peskov "categorically" rejected "any comparisons" with the Yukos affair on Sept. 16.
'Another Burden'
"Khodorkovsky's arrest in October of 2003 came out of the blue at a time of strong market," Aleksei Belkin, who helps manage about $4 billion as chief investment officer at Moscow-based Kapital Asset Management LLC, said by phone on Sept. 19. Back then, it "sent a very strong signal to the market." The situation is different now, he said. "Evtushenkov didn't have the political influence Khodorkovsky had. His arrest is yet another burden on those few market participants left in Russia."
U.S. and European Union sanctions targeting Russia for its alleged role in the Ukraine conflict threaten to push the country's $2 trillion economy into recession. Gross domestic product will grow 0.5 percent this year, the slowest since a 2009 contraction, the Economy Ministry forecasts, while the average of 38 economist forecasts compiled by Bloomberg indicates an expansion of just 0.25 percent. Russia denies all involvement in Ukraine.
ETF Declines
The Bloomberg Russia-US Equity Index of the most-traded Russian companies in the U.S. fell 3.2 percent last week to 82.69, a six-week low. The Market Vectors Russia ETF, the largest U.S. exchange-traded fund tracking the nation's companies, dropped 4.2 percent to $23.55, the steepest weekly retreat in two months.
The Micex slipped 1.3 percent to 1,412.83 in Moscow today. Sistema lost 3.4 percent, Bashneft retreated 5.2 percent while MTS rose 0.1 percent in New York.
Khodorkovsky was convicted of tax evasion, money laundering and oil embezzlement and spent more than a decade in jail before being released last December after Putin signed a pardon just weeks ahead of the Winter Olympics. He maintained his innocence, saying the cases against him were retribution for financing opposition parties. Most of Yukos's largest assets were acquired in a series of forced sales by OAO Rosneft, which has since become the world's largest publicly traded oil company by output.
Executives' Support
Top Russian company executives have voiced their support for Evtushenkov. Andrey Kostin, CEO of VTB Group, Russia's second-biggest bank, said in Sochi last week that he was hopeful the arrest was just a misunderstanding. Billionaire Oleg Deripaska, head of aluminum producer United Co. Rusal, said in a Sept. 19 television interview with Rossiya 24 that investors should buy Sistema shares and wait for a "good" ending. OAO Sberbank chief Herman Gref called the arrest a tragedy, according to RIA Novosti.
"I have clients who think Russia is just uninvestable at this point as you never know what can happen there overnight," Luis Saenz, head of equity sales and trading at BCS Financial Group in London, said by phone Sept. 19. "The case isn't closed and the investigation continues, which means a huge degree of unpredictability ahead."
Before it's here, it's on the Bloomberg Terminal.
LEARN MORE