Phones 4u to Sell Stores to EE as Dixons Talks Said to Continue
Amy Thomson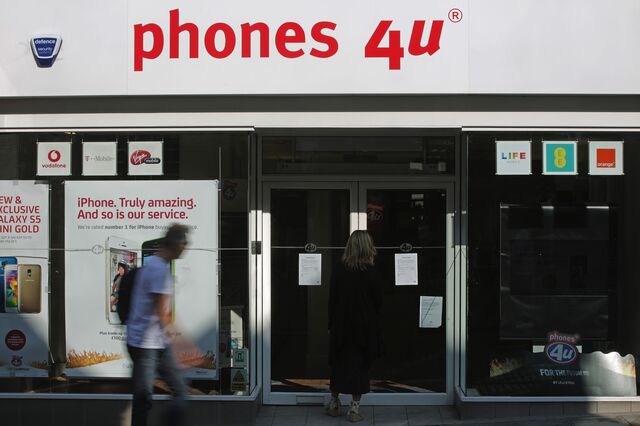 Phones 4u, the failed U.K. mobile-phone chain under administrator's protection, agreed to sell some stores to former partner EE Ltd. as talks with retailer Dixons Carphone Plc are said to continue.
EE agreed to buy 58 Phones 4u shops and take on 359 employees, the largest U.K. wireless carrier said today. EE is also considering a bid for the Phones 4u Life business, a reseller of EE's service, a person familiar with the matter said, asking not to be named because the talks are private.
Dixons Carphone, the London-based electronics retailer that agreed last week to take on 800 Phones 4u employees, is in negotiations to buy some Phones 4u stores and may announce the purchase as soon as today, people familiar with the matter said.
The remnants of Phones 4u will probably be liquidated if administrators can't find additional buyers. The company is selling off stores and inventory and cutting employees after EE and Vodafone Group Plc said they wouldn't renew their contracts with the store, depriving the retailer of the source of 90 percent of the plans it sells. PricewaterhouseCoopers LLP, the company's administrator, is selling the assets to raise money to pay off employees and bondholders.
Vodafone said on Sept. 19 that it plans to buy 140 shops and take on about 900 employees, pending a court hearing today to review the sale. The company had 700 stores and concessions and almost 5,600 employees when PwC was appointed as its administrator last week.
Vodafone's agreement to buy stores and inventory will raise 12.4 million pounds ($20.3 million) while EE's deal for shops will raise 2.5 million pounds, PwC said today in a statement.
Insurance Business
PwC said on Sept. 18 that there are potential buyers for the retailer's insurance business, and that New York-based Assurant Inc. is among the interested parties.
Phones 4u's debt includes 635 million pounds of bonds and a 125 million-pound revolving credit facility, according to data compiled by Bloomberg. The bonds comprise 430 million pounds of 9.5 percent senior secured notes maturing April 2018 and 205 million pounds of 10 percent payment-in-kind notes due April 2019, which give the company the option to pay interest with more debt.
Sky News said on Sept. 20 that Dixons Carphone was in talks to buy some of the stores. Bloomberg reported EE's interest last week.
Before it's here, it's on the Bloomberg Terminal.
LEARN MORE