De Blasio Promises to Reduce NYC Greenhouse Gas Emissions by 80%
Stephen Merelman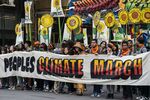 New York City aims to reduce its greenhouse gas emissions 80 percent by 2050 from 2005 levels, beginning with a plan to retrofit public and private buildings.
Every municipal building that uses significant amounts of energy, about 3,000 structures, will be improved by 2025, Mayor Bill de Blasio said in a statement today. The city will give private landlords incentives and, later, mandates to ensure their buildings pollute less. About three-quarters of the city's emissions result from power used for heating, cooling and operations.
"Climate change is an existential threat to New Yorkers and our planet," de Blasio said. "Acting now is nothing short of a moral imperative."
The plan, announced two days before the start of a United Nations climate summit, would make New York the largest municipality to commit to the 80 percent goal, according to the statement.
The city, which owes its historic commercial energies to its proximity to water, faces danger from rising tides as the global climate warms. Hurricane Sandy in 2012 inundated parts of Manhattan, Brooklyn and Staten Island that had been previously safe and dry.
Improvements to city buildings include better lighting and boilers and the installation of solar arrays. All structures of more than 25,000 square feet (2,320 square meters) will have to measure and disclose their energy use. The mayor also proposed financial and regulatory changes to propel the changes.
Before it's here, it's on the Bloomberg Terminal.
LEARN MORE