Big Is Back in Japan Stocks as Toyota Rallies: Chart of the Day
Anna Kitanaka and Toshiro Hasegawa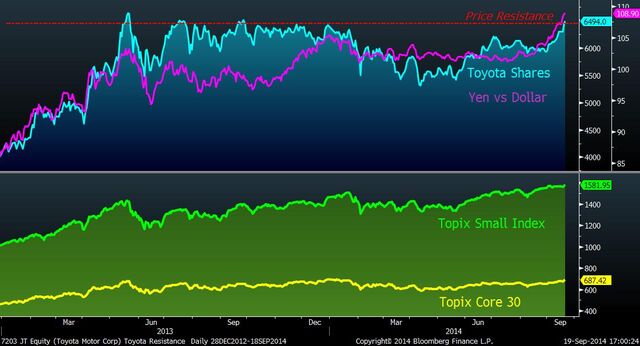 Big is back on the menu for Japanese stock investors.
The CHART OF THE DAY shows shares of Toyota Motor Corp., the nation's largest listed company, rose to 6,494 yen on Sept. 19, the highest in almost a year and near the 6,500 yen level that they've tested and dropped back from about half a dozen times in the past 16 months. The yen is also tracked against the dollar. The lower panel shows the Topix Small Index, which climbed 8 percent this year, and the Topix Core 30 Index containing the biggest Japanese stocks, which slid 1.3 percent.
That ranking is set to change, with investors finally becoming convinced that the Japanese currency is back on a course of weakening against the dollar, boosting earnings prospects for the country's biggest exporters, said Yasuo Sakuma, portfolio manager and executive officer in Tokyo at Bayview Asset Management Co. The yen slid on Sept. 19 to the lowest since Lehman Brothers Holdings Inc. collapsed in 2008.
"The reason Toyota shares have been bouncing back from the 6,400-6,500 ceiling is because the market has been skeptical," that the currency would keep dropping, Sakuma said. "However, with the yen at a six-year low, investors can't avoid increasing Toyota in their portfolios."
Earnings per share for Topix Core 30 companies, which also include Honda Motor Co., Panasonic Corp. and Canon Inc., will increase 7.2 percent in the next 12 months, according to analyst estimates compiled by Bloomberg. The yen, which traded between 100.76 and 105.44 per dollar this year through August, weakened 4.5 percent this month through Sept. 19 and touched its lowest since August 2008.
"Should Toyota start to break through this critical juncture, then investors that are underweight will likely see the risk of not holding those shares," Sakuma said. "Toyota is a mirror of the Japanese market and its corporations. If it can repel skepticism, then the negative catalysts for the market as a whole may be exhausted."
Before it's here, it's on the Bloomberg Terminal.
LEARN MORE