Yemen Rebels, Government Reach Accord as Clashes Hit Sana'a
Mohammed Hatem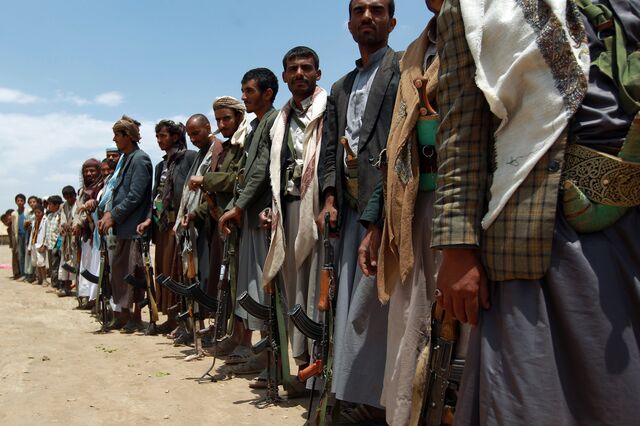 The United Nations envoy to Yemen, Jamal Benomar, said the government and Shiite Muslim rebels reached an agreement to resolve a crisis that threatened to ignite a civil war in Saudi Arabia's southern neighbor.
Benomar, speaking at a briefing late yesterday, didn't say when the accord will be concluded. Al Jazeera television reported the signing was expected today.
Explosions and clashes could be heard in Sana'a, the capital, through the morning. Residents were forced to flee their homes to neighboring cities to escape the fighting.
The agreement follows battles that began this month between the Houthi rebels and the army. Rebels captured the state-run broadcaster's building yesterday, forcing it off the air, after shelling it for three days, Ali al-Emad, a Houthi leader, said by telephone. The broadcaster said earlier that parts of the building caught fire and several employees were wounded.
Deteriorating security across a country bigger than Spain has raised the prospect of the state's collapse along tribal and sectarian lines, and is providing a haven for al-Qaeda in the Arabian Peninsula. Stability in the country of 25 million people has worsened, with more kidnappings and assassinations since popular unrest pushed President Ali Abdullah Saleh from office in 2011.
Yemen's Supreme Security Commission announced a curfew yesterday from 9 p.m. to 6 a.m. in areas where clashes occurred, the official Saba news agency reported, citing a statement from the country's security agency.
Houthi Rebels
Houthi rebels shelled the First Armored Division in Sana'a, and smoke could be seen coming from the area. Dozens of Shiite fighters were patrolling the base of the division, Mahmoud Rashid, a witness, said by phone.
The Houthis pressed their attack against Iman University. The school is considered a recruitment center for Sunni militants and is run by cleric Abdul-Majid al-Zindani, who is considered by the U.S. to be a "specially designated global terrorist," the Associated Press reported.
The Houthis started protests weeks ago to pressure President Abdurabu Mansur Hadi to dissolve the cabinet and rescind a decision to raise fuel prices. They positioned arms and personnel on the outskirts of the city and supporters set up protests camps near government ministries.
The Houthis, named after the group's founder Hussein al-Houthi, fought a six-year battle for autonomy beginning in 2004, saying they faced discrimination from Yemen's majority Sunnis. Authorities accuse the rebels of seeking to reinstate the rule of Shiite religious leaders who ran the country before 1962.
Before it's here, it's on the Bloomberg Terminal.
LEARN MORE