GM Recalls Cadillacs, Impalas; Chrysler to Repair SUVs
Shruti Date Singh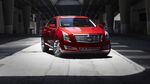 General Motors Co., the largest U.S. automaker, is recalling some Cadillac and Impala cars while Chrysler Group LLC called back some Jeep and Dodge sport utility vehicles, according to government reports today.
The GM recall may affect 132,921 vehicles, including 2013 to 2015 Cadillac XTS models made from Feb. 14, 2012, to Aug. 22, 2014, and 2014 to 2015 Chevrolet Impalas made from Jan. 15, 2013, to Aug. 22, 2014, the National Highway Traffic Safety Administration said in a Sept. 19 statement posted on its website today. If the electronic parking brake piston actuation arm doesn't fully retract in these cars, the brake pads may be partially engaged, creating excessive brake heat that may cause a fire, the agency said.
GM will notify owners and dealers will update the brake software for free. The callback, expected to begin this month, comes after Detroit-based GM's ignition-switch recall in February expanded to about 2.59 million cars, including the Chevrolet Cobalt and Saturn Ion. The automaker has attracted regulatory scrutiny for being slow to call back small cars with ignition flaws.
Chrysler, the third-largest U.S. automaker, is recalling some 2011 Dodge Durango and Jeep Grand Cherokee sport utility vehicles because a fuel pump part may fail, the NHTSA said.
The recall may affect 188,723 SUVs manufactured between Jan. 5, 2010 and July 20, 2011, with either a 3.6 liter or 5.7 liter engine, the agency said. A faulty fuel pump part may cause the vehicles to stall without warning and increase the risk of a crash, the agency said.
Chrysler will notify owners and dealers will replace the fuel pump part free of charge, according to the statement. The recall is expected to begin on Oct. 24.
Safety Unit
Chrysler announced last month that it has created a new unit focused on vehicle safety and regulatory compliance after the Auburn Hills, Michigan-based automaker said in July that it would recall more than 790,000 Jeep SUVs as part of NHTSA's investigations into ignition switches.
The recalls come as Chrysler regains market share from GM and other carmakers in the U.S. with Jeep and other brands under the leadership of Chief Executive Officer Sergio Marchionne after its government-sponsored bankruptcy in 2009.
Before it's here, it's on the Bloomberg Terminal.
LEARN MORE