Yum's Communist-Era Logo Has Some Seeing Red
By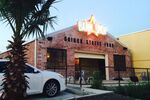 The red star logo over Yum! Brand's newest test restaurant, a Vietnamese sandwich shop in Dallas, was a little too pinko for some. The local Vietnamese community quickly took up an online petition that described the red star as "a symbol of communism" that "will offend thousands of South Vietnamese refugees," and Yum removed the logo less than one week after the restaurant opened.
The same design firm that came up with the red star for the Bahn Shop concept restaurant is working on a new logo (a Yum spokeswoman would not identify the firm). The company said it will seek feedback for the new logo from the author of the petition, Thanh Cung, president of the Vietnamese-American Community of Greater Dallas.
 
The Vietnamese flag features a yellow star, and a white star appears on the state flag of Texas. Red stars are also used on various logos, from Heineken's to Macy's, but to some, the symbol resonates differently on a Vietnamese restaurant.
"It was never our intent to offend anyone, but we see we have made a mistake," wrote Yum's chief public affairs officer, Jonathan Blum, in a letter on Thursday.
Before it's here, it's on the Bloomberg Terminal.
LEARN MORE