Yahoo Is Both Winner and Loser in Alibaba's IPO
By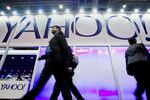 Yahoo! is having a heck of a day. The company just sold a chunk of Alibaba stock as part of that company's initial public offering that was worth a cool $9 billion—as much as Yahoo has made in revenue over the last two years. At the same time, the value of Yahoo's remaining Alibaba stock climbed to about $37 billion (the company owns about 401 million shares). But Yahoo's own stock lost 3.5 percent of its value, or $1.5 billion in total market cap, dropping the company to an overall valuation of $40.4 billion.
These things are related. For years, Yahoo's large stake in Alibaba made it the best way for American investors to get a piece of the Chinese e-commerce company. "Now you can invest directly in Alibaba, and you don't have to be saddled with the Yahoo assets," says Laura Martin, an analyst at Needham, which has a hold rating on Yahoo's stock. Not everyone swapped out their Yahoo shares today, she says, but many did, and more will in the days to come. Yahoo has said that it will send at least half of the cash it makes from the Alibaba sale back to shareholders. Once it has done so, there will be one less reason for Yahoo investors to stick around.
Several people have suggested that the market has so undervalued Yahoo's core business that it could be a prime acquisition target—maybe even for Alibaba itself. (Bloomberg TV's Emily Chang asked Alibaba founder Jack Ma about acquiring Yahoo this morning; he demurred.)
Yahoo will still have plenty of cash to give it a go on its own. Much of this, presumably, will go toward buying smaller companies, adding to the 43 acquisitions the company has made since the beginning of 2013. Chief Executive Marissa Mayer has boasted that Yahoo as a whole has seen traffic rise, but it's yet to make a difference to the bottom line. Yahoo's revenue last quarter was lower than it was a year earlier (and, in fact, lower than its revenue in the corresponding period for every year since 2004). Its share of the digital advertising market is set to drop to 2.5 percent in 2014, according to EMarketer.
Yahoo's investment in Alibaba has given it an opportunity to turn itself around, first with years of financial cushioning, now with a big chunk of cash. Few companies ever get the luxury of both time and money. If Mayer can't make this work, she's got no one to blame but herself.
Before it's here, it's on the Bloomberg Terminal.
LEARN MORE