These NFL Fans Give to Women's Abuse Shelter Before Game
Rob Gloster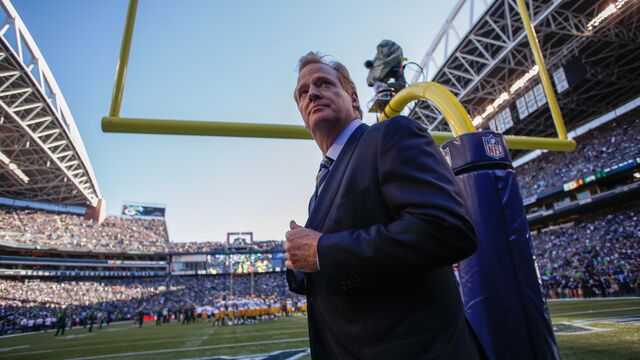 The Ray Rice elevator punch and the National Football League's much-criticized response have given American families an opening to discuss domestic abuse.
Our recent dinner conversations, which usually focus on homework, theatre rehearsals and the Kardashian iPhone game, have given way to debates about violence in society.
As a child of the 1960s who initially applauded Rice's indefinite suspension by the NFL, I was somewhat surprised to hear my daughters saying the punishment was unfair.
My 12-year-old wondered how Rice, already judged by the legal system and suspended two games by the NFL, could lose his job simply because a video of the abusive act went viral.
Her 14-year-old sister empathized with Janay Palmer, who was knocked unconscious by Rice and married him six weeks later. She felt Palmer had suffered enough, and that having her husband's career taken away was too much -- especially as the video played on an endless loop on TV and social media.
A neighbor found a better way of bringing the discussion home. When her husband objected to her initial plan to ban all NFL games from their house to protest what she saw as the leniency of Rice's original two-game suspension, she came up with a pay-per-view system for her sons.
Now, when her 12- and 14-year-old boys watch an NFL game, they must donate $2 each to a women's shelter. The mom, Liz Mabey, said each boy gets a $5 weekly allowance.
Mabey won't watch any games this season, despite being a fan who regularly spends NFL Sundays with her family in front of the TV. But she'll match her sons' donations to Next Door Solutions to Domestic Violence, located about five miles from the San Francisco 49ers' new $1.3 billion Levi's Stadium.
"Anyone who reads the paper should have at least a little twinge of conscience on some front when watching football, whether it's concussion care or player misbehavior, but the Rice debacle was the final straw for me," Mabey says. "I wanted to take a stand in front of the boys to let them know that athletic talent and vast fortune don't excuse misbehavior."
***
Warren Buffett has made billions betting on markets, but until last weekend had never wagered on football. Not surprisingly, the chairman and chief executive officer of Berkshire Hathaway Inc. was a winner there, too.
Buffett, 84, who with a worth of $67.7 billion ranks third on the Bloomberg Billionaires Index, was in Las Vegas for the Floyd Mayweather-Marcos Maidana welterweight fight when he bet $550 on the Nebraska Cornhuskers, a 12 1/2-point favorite at Fresno State.
The Nebraska alum pocketed $500 at the MGM Grand when the Huskers won 55-19.
"To my memory that's the only football game I've ever bet on," Buffett wrote in an e-mail sent by an assistant to my colleague Noah Buhayar. "When I walked by the Sports Book and saw the spread at 12 1/2 points, I knew it was very mispriced. I don't expect any similar mispricings for the rest of the season (and maybe for the rest of my life, hopefully a different calculation).
''By the way, I would be very curious to see where the line ended up at game time,'' Buffett added. ''I believe a number of copy-cat bettors followed me.''
In fact, the line dropped to 12 points by the start of the game. And Nebraska is a 7 1/2-point favorite at home tomorrow against Miami.
***
- New England Patriots coach Bill Belichick needs a home-opener victory this weekend against the winless Oakland Raiders to move into fifth place on the regular-season career list with 201 wins. The only coaches with more are in the Pro Football Hall of Fame: Don Shula (328), George Halas (318), Tom Landry (250) and Curly Lambeau (226).
- Clayton Kershaw of the Los Angeles Dodgers goes for his 20th win of the season today at the Chicago Cubs. Kershaw, who signed a $215 million, seven-year deal in January, is 19-3 this year with a 1.70 earned run average -- en route to his third Cy Young Award in the last four years as the National League's best pitcher. With another win, he'll join Sandy Koufax, Don Drysdale and Claude Osteen as the only Dodgers pitchers with multiple 20-win seasons since the team moved to Los Angeles from Brooklyn in
1958.
- It's been just a bit more than three months since the last game of the Stanley Cup finals, and hockey fans can rejoice -- training camps have opened, with teams including the New York Rangers starting practice today.
- Derek Jeter's home run last night against the Toronto Blue Jays left the New York Yankees three homers from becoming the first Major League Baseball franchise with 15,000 round-trippers. Babe Ruth leads the team list with 659 homers, followed by Mickey Mantle (536), Lou Gehrig (493), Joe DiMaggio (361) and Yogi Berra (358).
***
Remember the U.S. Open tennis match that lasted until 2:26 a.m.? Well, Kei Nishikori and Milos Raonic weren't the only folks who had to stay alert throughout the four-hour, 19-minute marathon.
The match officials also finished up a long day when Nishikori won in five sets. Nine days later, a federal judge in New York decided they won't be getting a bonus for staying up so late.
Judge Andrew L. Carter ruled last week that hundreds of umpires who have officiated at U.S. Open tennis matches during the past decade are independent contractors and not entitled to overtime pay.
Court documents said U.S. Open umpires get paid $115 to $200 per day, depending on their level of experience, as well as travel, meal and hotel allowances from the U.S. Tennis Association. They get paid the same amount whether they are working men's or women's matches, and whether it's a first-round contest or the championship.
The umpires, who start their day as early as 10 a.m., get uniforms but are expected to pay for their own suntan lotion and other supplies, the judge wrote.
''Their association with USTA may recur annually," Carter said as part of his explanation for classifying them as contractors, "but the duration of their relationship is short-lived."
***
U.S. President Barack Obama sent a couple of cases of Samuel Adams beer to Belgian Prime Minister Elio Di Rupo to pay off a bet from Belgium's 2-1 defeat of the Americans in the round of 16 at soccer's World Cup on July 1.
The Sept. 12 shipment to Belgium's embassy in Washington included a handwritten note from Obama congratulating the Belgians -- who lost to Argentina in the quarterfinals -- and concluding with a challenge for the next World Cup in Russia.
"As Americans, we're always grateful for the partnership with our Belgian allies," the president wrote. "Except on the pitch. See you in 2018."
Before it's here, it's on the Bloomberg Terminal.
LEARN MORE