Scotland's 'No' Vote Could Still Splinter the United Kingdom
By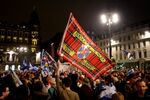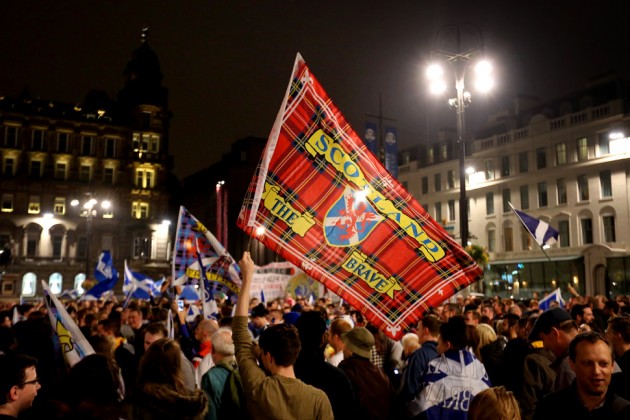 The question of Scotland's independence may now be settled "for a generation," as British Prime Minister David Cameron put it, after Scottish voters said "no" to independence by a 55 percent-to-45 percent margin in a Sept. 18 referendum.
But the referendum campaign is likely to produce a United Kingdom that's less united. Even before all the votes were counted, Cameron was facing demands from England, Northern Ireland, and Wales for greater autonomy and fiscal authority. There were also calls from within his own party for London to curb subsidies to Scotland.
"The rejection of independence is only the beginning of a larger debate about the future of the U.K.'s political system," said analyst Adrian Rogstad of IHS Global Insight in London. "Ultimately the promises of more powers to Scotland could spark a process of federalization."
In the runup to the referendum, Cameron promised to give Scotland's parliament enhanced powers on taxation, spending, and social policy. That angered members of his Conservative Party, because Scottish members of Britain's Parliament are able to vote on legislation affecting only England. "For too long the rights and interests of the 55 million people of England have been subordinated to the shouting of 4.5 million Scots," Conservative lawmaker James Gray wrote on his website. "That must end."
A survey of House of Commons members the day of the referendum found that 65 percent favored overhauling a formula used for distributing government aid to Scotland, which now guarantees the Scots £1,623 ($2,670) per head more than the rest of the U.K.
In his first public statement after the vote, Cameron announced a commission to recommend constitutional changes that would reduce the power of non-English lawmakers over such legislation. "The millions of voices of England must also be heard," he said.
Others are calling for more-sweeping changes. Nigel Farage, the leader of the anti-European UK Independence Party, held a press conference this morning in front of a mailbox in London where he mailed letters to Scotland's 59 members of the House of Commons, asking them to give up their right to debate or vote on English-only issues. Farage has called for a full constitutional convention to rebalance power within Parliament, including days set aside for English-only business.
The Scottish campaign has also renewed calls for greater autonomy in Wales and Northern Ireland. "Wales needs its own say on taxation, policing, rail franchising, large energy projects, and much more," Kirsty Williams, who heads the Welsh Liberal Democratic Party, said in a statement after the referendum. The Liberal Democrats, while opposing Scottish independence, have said they favor a "federal U.K." in which defense and foreign policy would be set in Westminster but most other powers would be handed over to national parliaments.
A federalized U.K. could lead to rekindled tensions in Northern Ireland between Protestants who want to remain part of the union and Catholics who want independence and closer ties with the Republic of Ireland. The U.K. has "changed forever" because of the Scottish vote, Gerry Adams, leader of the pro-independence Sinn Féin party, told the BBC today. "London must deliver on its promises—to Ireland also," he said.
While investors and corporate leaders heaved a sigh of relief over the referendum result, the prospect of a federalized U.K. clearly makes them nervous. Among their fears: a more complex tax regime that would increase the costs of doing business and deter foreign investment. The divvying up of political power must "not undermine the strength of the single internal market," John Cridland, head of the Confederation of British Industry, said in a statement. He called on his countrymen to work together to heal "inevitable scars" from the campaign.
Before it's here, it's on the Bloomberg Terminal.
LEARN MORE