The People's Climate March—and Some Companies', Too
By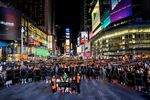 For those who haven't heard about the People's Climate March in New York City this Sunday, here's some important information, according to the organizers: It will be massive, maybe the largest gathering of its kind, and history-making. The many environmental and labor groups behind the march have put ads on the city's subways, as well as in the New York Times. They're calling for "a prosperous, low-carbon future" before next week's United Nations Climate Summit.
The public-relations effort is impressive. Given that, it's probably not too surprising that a few companies have joined in.
You might be able to guess which one came out first. That's right, Patagonia. The company that has at times urged consumers not to buy its products announced that its four New York City stores will be closed on Sunday so its employees can participate in the march. The company's chief executive officer, Rose Marcario, is going, too. One store near the route will be offering coffee and bagels before things get under way, Marcario said in a note on Patagonia's website, adding that the stores will reopen at 3 p.m.
PepsiCo has made a public show of support for the goals of the march, if not the marchers themselves. The company sent a release on Friday announcing that it has a plan to phase out hydrofluorocarbons by 2020. "Combating climate change is absolutely critical to the future of our company, customers, consumers—and our world," said Pepsi CEO Indra Nooyi. "I believe all of us need to take action now."
The White House noted that, ahead of the climate summit, other companies have agreed to cut emissions of greenhouse gasses. Those companies include Target, Coca-Cola, and Red Bull, all known for employing fairly sophisticated marketing folks. As far as I can tell, the chief executives of these companies haven't made any statements this week.
Before it's here, it's on the Bloomberg Terminal.
LEARN MORE