Oracle Hunger Games: Larry Ellison Creates Co-CEOs
By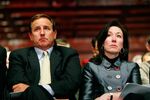 Larry Ellison loves a good game. Even in stepping down as chief executive officer on Thursday, Oracle's co-founder has created another opportunity to compete. How else to explain the Faustian pact he's struck with successors Mark Hurd and Safra Catz? The new CEOs, both of whom were previously presidents, now find themselves in the unenviable position of being forced to share the top job.
Eventually, one is likely to go—or both will. The problem isn't just that dual leaders create confusion for employees, customers, and practically everyone else who has to deal with them. As University of Michigan management professor Noel Tichy points out, the co-CEO title is especially irritating to those who have it. "It set ups a very funky dynamic with people who, at the end of the day, have been bred to want the gold ring," says Tichy, who has just written a book on succession.
Some might say Oracle tackled that problem by giving Catz and Hurd distinct areas of responsibility. (In fact, other than the shuffling of nameplates, some might wonder if anything changed at all.) Catz will oversee manufacturing, finance, and legal functions, while Hurd will continue to handle sales, service, and the vertical industry global business units. (Kraft took a similar approach when it gave the CEO title to both Betsy Holden and Roger Deromedi more than a decade ago, only to strip Holden of the title when the North American business faltered under her watch.)
Catz and Hurd have worked with Ellison for years in what seems to be a state of harmony. So did Jim Balsillie and Mike Lazaridis at Research in Motion—until investors began to see the co-CEO arrangement as emblematic of broader inaction at the company. SAP's Bill McDermott also seemed happy to share power with co-CEO Jim Hagemann Snabe for a few years, too, but predicted faster decision-making soon after Snabe quit. The issue is less about harmony at the top than accountability. Oracle's triumvirate may have worked beautifully, but no one was ever confused about who was in charge.
In fact, part of the confusion stems from questions about what role Ellison will play. Along with retaining the chief technology officer title, Ellison is replacing Jeff Henley as chairman. So instead of reporting to Ellison, Catz and Hurd will now report to a board chaired by Ellison, who also continues to oversee Oracle's software and hardware engineers.
That suggests two things: Either Ellison wants to quiet grumbling shareholders while preserving the status quo or he wants to figure out which of his two lieutenants is best qualified to lead—or both. Oracle's struggles and the timing of the announcement, coming after an earnings miss, certainly suggests heavy pressure from the board. While Ellison may own a quarter of the stock, he still must answer to many other owners. Bestowing new titles on Hurd and Catz, meanwhile, sets the stage for a horse race.
If Oracle stumbles, an additional candidate may emerge. After all, Eric Lefkofsky and Ted Leonsis shared the CEO job at Groupon until a replacement for Andrew Mason was found. But even with the departure of such an outsized personality as Ellison, Oracle's top perch is a place best occupied by one.
Before it's here, it's on the Bloomberg Terminal.
LEARN MORE