NASA Just Bought Two Space Taxis. Will Competition Save Money?
By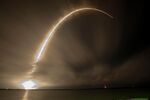 It's not exactly the rivalry between Uber and Lyft, but U.S. astronauts will eventually have two different options for taxiing to and from the International Space Station—and neither of them will be designed or built by NASA. The nearly $7 billion in contracts awarded this week have been split unevenly between Boeing and SpaceX, Elon Musk's space-exploration startup. For taxpayers, that leads to an obvious question: Isn't it cheaper to have a single builder?
That's an issue government has been grappling over for decades, most notably at the Pentagon. Military equipment contracts are increasingly awarded to one design from a single supplier as a way to keep a lid on costs. That imperative has become particularly critical over the past five years as Washington struggles to curb deficits and Tea Party lawmakers campaign to slash federal spending across the board, even for projects and constituencies the Republican Party has traditionally supported.
"We're going to find out how well sole sourcing works," says Richard Aboulafia, an aerospace analyst with Teal Group. "Once upon a time, it was about having an industrial base. Now it's all about costs. The accountants are in charge."
One major example of the single-source approach came to a head in the long debate over the engine on the Pentagon's most-expensive weapons system, Lockheed Martin's F-35 Lightning II Joint Strike Fighter. An earlier fighter jet, the F-16, has two engine providers. But in the F-35 program, General Electric and Rolls-Royce spent the better part of a decade developing an alternative engine for the F-35, even as military officials repeatedly asked Congress to shut down the secondary effort and spend the money on other projects. Finally, in 2011, legislators agreed and Pratt & Whitney was left as the sole engine supplier for the F-35.
That arrangement led to a rare public scuffle earlier this year when the Pentagon's F-35 program chief blasted Pratt & Whitney for not suitably managing costs on the engine. "When you are in a sole-source environment it is difficult to find the right leverage and motivation and drive the cost out of a program," Lt. Gen. Christopher Bogdan told reporters in April. A report in Aviation Week described the general as "frustrated by the lack of leverage he has in dealing with a monopoly engine provider." (Pratt & Whitney spokesman Matthew Bates says the company has spent more than $65 million to reduce the F-35 engine's cost by half.)
A similar situation occurred with the futuristic helmet F-35 pilots will wear. Displeased by the performance of the product from a Rockwell Collins-Elbit Systems joint venture, the Pentagon asked BAE Systems in 2011 to develop an alternative. Last October, after the original supplier improved its helmet's performance and agreed to a price cut, the government ended work on the BAE helmet after spending a reported $60 million. BAE Systems won't confirm that figure.
By bringing both Boeing and SpaceX into the dual development of new vehicles that can reach the space station, NASA is making an an initial foray into supporting a private space-travel industry that entrepreneurs hope will become a thriving space tourism sector. (California-based SpaceX will receive $2.6 billion for the work that Boeing told NASA would cost $4.2 billion; officials at SpaceX did not respond to a question about the cost disparity.)
The dual contracts are, in some ways, a throwback to an earlier era when the U.S. used large space and defense contracts as a way to seed entire industries. The rationale was that Uncle Sam is best positioned to catalyze investments in areas of strategic national interests and then private enterprise follows. That's what NASA hopes will happen with the Boeing and SpaceX projects: a space station shuttle that flies in parallel with the companies' other ventures to develop the field of space tourism, "opening up the door to more and more people seeing what we have seen from space," as astronaut Michael Fincke, who has spent 381 days in orbit, put it this week. Musk, for his part, envisions SpaceX as helping one day to build a city on Mars.
The record for both single- and dual-contracting approaches is mixed, and it's not easy to conclude that having only one supplier is any better or worse, in terms of performance and expense to taxpayers, Aboulafia and others say. Beyond the cost of a single space program or weapons system, government budget officials must consider the industrial base that accompanies a particular project when deciding to fund multiple suppliers. That issue of a competency also includes whether a company has done both commercial and government work, Aboulafia says, such as Boeing, GE, and Pratt & Whitney.
"We've seen examples where competition is good and competition's bad" for federal procurement, says Michael Lewis, a vice president of strategy and planning at BAE Systems, calling a multiple-supplier scenario "a great risk mitigator" for critical items the government is buying. He sees the current environment as one in which cost trumps other considerations, even when the total price difference for a product is minimal. "Budgets have gone up and down all through history," Lewis says. "It's really a mindset about what are we buying. Are we just out to get the cheapest or does the performance of the item factor into it?"
Before it's here, it's on the Bloomberg Terminal.
LEARN MORE