pursuits
Gatorade Says Goodbye to Derek Jeter
By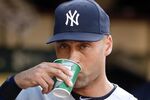 Gatorade is going to miss Derek Jeter. The sports drink released a 90-second farewell ad honoring Jeter, who will play his last game as a New York Yankee on Sept. 28. Produced by TBWAChiatDay in Los Angeles and written partially by Jeter himself, the spot shows Jeter walking through the Bronx on his way to Yankee stadium, greeting store owners, inspiring children, and helping an old lady use her phone. According to Adweek, the stroll was prearranged but fans' reactions are real.
Gatorade isn't the first company to salute Jeter. In July, Nike released its own 90-second spot, in which New Yorkers (and a few Red Sox fans) tip their Yankees caps to the Yankee has he steps up to bat. And Fox has actually been using him this year to promote its MLB coverage, aligning the history of the network's baseball coverage with the arc of Jeter's career. (Jeter was Rookie of the Year and the Yankees won the World Series in 1996, the same year that Fox started carrying MLB games.)
Jeter earns an estimated $9 million a year from endorsements, the most of any professional baseball player. He works with companies that range from Avon Products to Skippy, maker of peanut butter. But he's still far behind the $33 million that Tiger Woods gets, not to mention the crazy $40 million earned by LeBron James.
According to CNN Money, most of his endorsements are expected to follow him into retirement. That's pretty common for superstars. David Beckham was less than a year into retirement when he appeared nude for an H&M Super Bowl commercial this year. Shaquille O'Neal makes more money from endorsements today than he did when he was still playing.
But continued endorsements are one thing. It's much rarer for a company to shell out the money to pay tribute to an athlete's entire career. Nike's 2010 Ken Griffey Jr. retirement spot cheerfully bragged about all his home runs with a tag line, "Goodbye, baseball. Hello, Cooperstown." And in 1999, Nike ran a spot for Michael Jordan that showed his career backwards, from All Star to child, highlighting just how far he'd come. Jeter's tributes are equally endearing. Sweet, even. And given all the headline-grabbing controversies plaguing the sports world (OK, maybe just the NFL) right now, it's nice to watch something and feel the sort of childlike wonderment that athletes used to inspire.
Before it's here, it's on the Bloomberg Terminal.
LEARN MORE