Larry Ellison's Master Class in Being Rich and Having Fun
by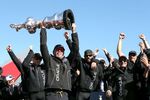 It's business as usual. That's what Oracle is saying about Larry Ellison's abdication as the company's chief executive officer. Its presidents, Mark Hurd and Safra Catz, had been handling the day-to-day operations of Oracle for years, with Ellison spending most of his time thinking about technology strategy. "They deserve the recognition," Ellison told analysts yesterday. "They deserve the CEO title." For emphasis, Catz added later, "There will be no change. Whatsoever."
While the status quo within Oracle might remain the same, something has certainly changed with Ellison stepping down. For me, it's a downright tragic moment. Ellison was the last member of a group of founder-CEOs who built the American technology industry into the envy of the world. What's more, he turned being a CEO into an art form. Looking back on Ellison's career, I wonder whether anyone has ever enjoyed being a CEO more. I think the answer is no.
Now and again, Hollywood will toss out a movie with a rich, larger-than-life business tycoon as a character. This guys dresses nice, drives fast cars, surrounds himself with beautiful women, does unconventional things, is a ruthless competitor, and scares the heck out of his board from time to time by engaging in death-defying adventures. All these characters are modeled on Ellison.
Four marriages. Once the richest man in the world. Joked about shooting a rival CEO and his dog. Sent private investigators to dig through garbage while battling Microsoft in court. Built a $200 million house in Woodside, Calif. Bought the island of Lanai. Had his own jet fighter. Won the America's Cup. Funded the Ellison Medical Foundation to defeat aging. Bought dozens of properties in Malibu. Invested in Salesforce.com and Netsuite, two of Oracle's competitors. Called a reporter a "scumbag." Watched Oracle acquire Pillar Data Systems, his own startup. Topped the highest-paid CEO list many times. Scoffed in the face of regulators. Took over the BNP Paribas Open tennis tournament and made Rafael Nadal his house guest. Survived 1998′s perilous Sydney-to-Hobart yacht race. And that's just off the top of my head.
CEOs who pay themselves exorbitantly, acquire their own startups with company money, and hang out with much younger women tend to get in a lot of trouble and lose their jobs. Ellison got in a modicum of trouble—a couple of nasty articles censuring his behavior here and there—but he never really cared about the negative attention. He certainly never lost his job.
"It's not that he got away with stuff," says Scott McNealy, the former CEO of Sun Microsystems, which Oracle acquired in 2010. "Shareholders are allowed to vote with their wallets. He was painfully above board about what he was doing and how he felt, whether it had to do with sexual harassment lawsuits, his pay, or competitors. He never came at you from any other perspective than doing what was best for Oracle. He's not tone deaf. He just chose not to listen to the media, or analysts, or investors, or often his customers. More power to Larry. I hope he gets to do more things."
Over the years, I've noticed that people in Silicon Valley tend to roll their eyes when Ellison's name comes up. He's been caricatured as a bully playboy, and people seem to think it would be painful to hang out with him. Those closer to Ellison, though, know him as the ultimate conversationalist—sharp, charming, and quite emotional. He might not be the most likable guy in technology, but, on many days, he's the most interesting.
There's always been a depth to Ellison and a zest for life. He made being a filthy rich CEO look like so damned much fun. I've come to think of him as a master craftsman in the art of enjoying life. While Ellison will still be around as Oracle's chief technology officer and one of the world's most fun billionaires, his model as CEO will be missed.
Before it's here, it's on the Bloomberg Terminal.
LEARN MORE