How to Avoid a 'Neverendum' in Scotland
By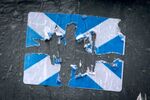 The United Kingdom may have avoided a chaotic breakup in yesterday's referendum, but the itch for independence hasn't gone away. That's why pro-union forces will need to act decisively to consolidate their victory at the polls so there isn't chronic agitation for do-overs—a neverendum, in the coinage of Canadian humorist Josh Freed.
Quebec is a worrisome precedent for Scotland. The French-speaking province has voted twice on secession, in 1980 and 1995. Both times the Quebecois chose to stay in Canada, but the uncertainty has harmed Quebec. "Money, talent, financial firms, and industrial firms left Quebec," Paul Marsh, emeritus professor of finance at London Business School, observed in a statement today. "Montreal suffered, and Toronto gained. There is now virtually no financial sector in Montreal. Quebec is the largest recipient of the Canadian federal government's equalization payment scheme, and it has the largest government debt of any province."
Case in point: The head office of the Bank of Montreal is in an elegant old columned building on Saint Jacques Street, but the real action occurs in Toronto, where the top executives of parent BMO Financial Group sit.
The obvious solution is for the government of British Prime Minister David Cameron to follow through on its commitment to devolve more authority to the Scottish government in Holyrood—paired with a statement that Scotland won't soon get another bite of the apple. Writes Marsh: "There should be a clear statement from the U.K. government that, in the interests of Scotland, and to quell further uncertainty, there will not be another referendum for at least a generation, where 'generation' means at least 25-30 years."
It's been almost 20 years since Quebec's last brush with secession, and the impulse to leave seems to have quieted a bit, which is a good thing. Before the vote, the Toronto-based Globe and Mail published an open letter to Scotland "from your Canadian cousins" that said, in part, "Once upon a time in Quebec, the independence option was the choice of the young, as it is in Scotland. That time has passed; most young Quebeckers today do not imagine that their very real economic and social challenges will be addressed by drawing a new border. But it took us a half-century to get to this point. The same can happen for you, too."
Before it's here, it's on the Bloomberg Terminal.
LEARN MORE