Will a New CEO at JetBlue Mean More Fees and Higher Profit?
By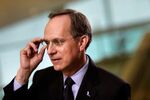 JetBlue Airways is getting a new chief executive next year, a change that has many industry analysts predicting the airline may try to boost revenue with new fees for bags and other unpopular changes.
JetBlue said Thursday that David Barger would step down in February when his contract expires and be succeeded by President Robin Hayes, a former British Airways executive. "I have been looking for the right time to take the next step in my life for a while, and my decision was ultimately determined by the strong state of the company and my absolute confidence in Robin's leadership," Barger, who was among the original corps of employees who established the company 15 years ago, said in a statement.
For much of the past year, many Wall Street analysts have viewed Barger, 56, as an impediment to greater profitability at the airline, which has also been beset by higher expenses due to labor costs, engine maintenance for its Embraer fleet, and continued network growth. Several analysts have consistently suggested the shares are depressed because of Barger's focus on passenger-friendly initiatives that leave shareholders at a disadvantage.
"Weighing the bimodal outcome of the CEO staying or leaving against the impact to the stock in either scenario, we believe the stock would go down more if he stays than it would go up if he leaves," Wolfe Research analyst Hunter Keay wrote about Barger in a Sept. 3 note. Shares of the airline rose more than 5 percent in after-market trading on news of the CEO succession.
While JetBlue is widely expected to introduce a new fee for checking a bag in 2015, the company has said it would seek to do so in a way that won't alienate customers. In an interview last month with Bloomberg Businessweek, Barger said air travel is not a commodity business and that JetBlue's emphasis on being a more humane, customer-friendly carrier was the key to its success.
Rightly or not, Barger was widely tagged as a hindrance to financial performance, not willing to take money from JetBlue customers in the same ways that most of its U.S. rivals have done, bolstering profit. Satellite-based Wi-Fi on much of JetBlue's Airbus fleet, for example, is still free, as are the blue potato chips and other snacks. In July, responding to analyst queries about potential revenue opportunities, Hayes said the airline is studying "fare families" that include checked-bag fees, among other changes, and praised European low-cost carriers for presenting the fees in an "elegant" fashion.
The departure watch for Barger began in May, when JetBlue board member Ann Rhoades told Bloomberg News that Barger was considering leaving when his contract expires. It's also likely that JetBlue directors wanted the CEO question resolved well ahead of the company's investor presentation slated for November. Hayes, who has bachelors and masters degrees in engineering, joined JetBlue in 2008 after a 19-year career with British Airways. He was promoted to president in late 2013.
Before it's here, it's on the Bloomberg Terminal.
LEARN MORE