Viral Fast Food's Unholy Rise
The rise of undelicious, unhealthy, viral fast food
By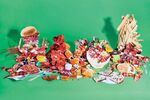 Starting this month at IHOP, you can eat a Belgian waffle topped with chunks of New York cheesecake and blueberry compote. The chain's Very Blueberry Cheesecake Waffullicious Waffle is also stuffed with cheesecake-flavored goo and more blueberries and, at 750 calories, makes a Big Mac feel lite. The waffle, which the menu describes as "lush," tastes like a sickly sweet dessert. Lucky customers get a free stomachache.
"If you think all this sounds desperate, you're right," says Bonnie Riggs, a restaurant industry analyst at research firm NPD Group. She's talking specifically about the blueberry cheesecake monster and its savory sibling, the Bac 'n' Cheddar Waffullicious Waffle, but also more generally about the gluttonous stunt marketing that has spread throughout the fast-food industry. KFC has been mixing mashed potatoes, fried chicken, bacon, corn, cheese, and gravy in one bowl since 2011. In 2012, Pizza Hut briefly sold a pizza with a crust made out of cheeseburgers. In July, TGI Fridays began offering unlimited appetizers for $10. The Olive Garden recently sold a thousand $100 "Never Ending Pasta Passes," which give people the chance to eat as much fettuccine Alfredo as they can keep down until early November.
These promotions are tailor-made for online virality, which the chains hope will entice more customers to gorge themselves. Since 2008, U.S. restaurant visits have declined by 1.3 billion. (Millennials, hit hard by the recession, adopted the money-saving habit of eating at home.) Ruby Tuesday recently closed 30 restaurants. TGI Fridays' parent, Carlson, sold it to two private equity firms in May. Darden Restaurants sold Red Lobster in July so it could focus on Olive Garden. And business probably won't improve anytime soon—NPD estimates the industry will remain stagnant until at least 2022. "We've never seen something like this before," Riggs says. "So restaurants are pulling out every trick in their marketing basket to try to drive traffic."
For a while the dare-you-to-eat-this strategy was working. Since 1995, Olive Garden has had the $10 "Never Ending Pasta Bowl," which helped the chain sell an additional 13 million bowls of pasta, making it Darden's most popular promotion to date. This year the limited-edition $100 pasta passes sold out in a little more than an hour; they're going for as much as $300 on EBay.
Taco Bell's Doritos Locos Taco, introduced in 2012, brought in $1 billion of sales its first year. But Doritos fatigue eventually set in; same-stores sales for 2014's first quarter were down 1 percent. A Spicy Chicken Cool Ranch version of the taco that was added to the menu in March didn't meet expectations. "I don't know anyone who's actually gone to eat this stuff besides me," says Dennis Lee, a Chicago-based food writer for the blog Serious Eats. Taco Bell also revamped its breakfast menu in March, and Lee reviewed everything on it, including the much-hyped Waffle Taco, which is basically eggs and sausage shoved into a tortilla-shaped waffle. Although the chain's sales were temporarily buoyed by breakfast, "the Waffle Taco was greasy and didn't taste like a waffle," Lee says, "and I'm a person who normally loves Taco Bell."
Despite the industrywide panic, IHOP is one of a few chains that's growing. The International House of Pancakes saw an almost 4 percent increase in sales during the first six months of 2014, and the company expects its new offerings to boost profits even higher. "I don't think we've ever baked anything into our waffles before," says Marie Grimm, vice president of culinary innovation. She spent a year and a half testing different flavors before settling on the cheesecake-blueberry and bacon-cheddar mixes. It's still too early to tell how they're selling—anecdotally, she says, both seem to be equally popular. If they do well, IHOP might release other hybrids. "Innovation is really being pushed right now," Grimm adds. Watch out, pancake people: McDonald's just trademarked McBrunch.