politics
The Guide to Barely Criticizing Hillary Clinton
When it comes to commenting on Hillary, other Democrats just can't seem to find the words.
By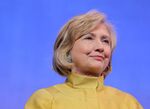 Finding a Democrat who will criticize Hillary Clinton on the record can be harder than tracking down a pork rind in Bill Clinton's now-vegan kitchen cabinets.
Beyond the obvious reason for party loyalists to remain silent (see: 2016 presidential nomination) Democrats fear the Clintons' long reputation for reprisal. Stories of Bill and Hillary Clinton's ability to remember and punish political betrayals are legendary in Washington.
During the 2008 campaign, their team kept a detailed list of who endorsed Hillary Clinton and when, giving each backer a numerical score, according to the book, "HRC: State Secrets and the Rebirth of Hillary Clinton." Those who supported Clinton's candidacy could expect favors later. And those who endorsed late in the campaign -- or worse, still -- backed President Barack Obama, would be remembered and rejected.
Now, with Clinton seeming like the all-but-certain party nominee, her fellow Democrats—some of whom have their own presidential ambitions—are turning their potshots into a political art form.
Martin O'Malley, February
"I have a great deal of respect for Hillary Clinton," O'Malley told The Washington Post in February. "But for my own part, I have a responsibility to prepare and to address the things that I feel a responsibility to address. . . . To squander this important period of preparation because of horse-race concerns and handicapping concerns is just not a very productive use of energy ... Right now, I'm going to keep doing what I'm doing — the thought work and the preparation work."
Maryland Governor Martin O'Malley loves the Clintons. He's campaigned for them. He's been compared to them. He's even flown to Ireland with them. So this isn't about Hillary, really. He's just doing what he needs to do. You know, just in case she doesn't run. And if there happens to be a vice presidential spot for him at the end of her campaign rainbow that would be fine, too.
Joe Biden, June
"The first thing you're going to say is, 'Look at Biden, man. He's got a mildly expensive suit on. He's Vice President of the United States of America. He makes—notwithstanding that he is listed as the poorest man in Congress—he still makes a lot of money as Vice President of the United States.' And I do by the way ... Don't hold it against me I don't own a single stock or bond. Don't hold it that I have no savings account."
This could've been classic Biden charm on any given day, but on this particular day there was a cloud over Hillary Clinton for claiming she was "dead broke" after leaving the White House. So here he is, letting everyone know that he isn't dead broke, isn't filthy rich, and is just doing the best he can, which is not as good as the Clintons, who have savings accounts and suits at some price point above that at which he pegged his own in that very moment. Did you get all that? We can't imagine anyone did.
Deval Patrick, September
"First of all, I think she's fantastic and incredibly strong," Patrick said at a fundraiser for Florida gubernatorial candidate Charlie Crist on Monday. "But the problem with inevitability is it's sometimes interpreted as entitlement and I think that voters want competition and they want their candidates to have to work for it. We don't have to really get too deep into that because she hasn't declared yet, but it's just a concern that I hope her campaign keeps in mind." 
Deval Patrick just cares about the people, can't you see? It's not about the Massachusetts Governor's presidential aspirations. Or the fact that at the end of this year, he's out of a job. Oh, no, sir. It's about the voters. They're the ones that should really have options in this whole crazy election thing. They deserve it. And, really, what does it matter if Patrick ends up being on the primary ticket?
Bernie Sanders, September
"If we do not get our act together to come up with public policy which expands the middle class, if we don't overturn Citizens United, if we don't move to public funding of elections, we are going to live in an oligarchic form of society," Sanders said. "Now is Hillary Clinton going to say that?"

"I know Hillary, I respect Hillary Clinton," Sanders clarified. "I knew her when she was first lady, I certainly knew her as a colleague in the Senate. I don't know if Secretary Clinton is running for president and I have no idea what she is going to be campaigning on. But I do know what I believe and what I will be speaking about."
There's a vast universe of people and things Vermont Senator Bernie Sanders loves to attack: President Barack Obama, former Vice President Dick Cheney, Wal-Mart, Wall Street, Monsanto, the Smithsonian, and the entire U.S. political system, for starters. But when it comes to Clinton, even a self-proclaimed Democratic Socialist is a little bit cowed. When interviewed by CNN last month, Sanders threw out only tepid criticism of Clinton's position on campaign finance reform. And even that he quickly pulled back. Of course, it's unclear how long a tough-talking, Brooklynite-via-Burlington will be able to hold his fire—particularly if he mounts a ideologically-motivated primary challenge.
Elizabeth Warren, September
In an interview with Yahoo News, Warren was asked if the former Secretary of State was "too cozy'' with Wall Street. Neither a yes, nor a no would do.
"You know, I worry a lot about the relationship between all of them: Regulators, government and Wall Street," Warren replied.

"But what about Hillary Clinton in particular?" interjected interviewer Katie Couric.

"Well, I worry across the board," Warren responded.
Though the Kennedys, Bill Maher, and Democratic activists are calling for Massachusetts Senator Elizabeth Warren to run, you don't win a Senate seat without being able to read a poll or two. She knows that most voters aren't clamoring — at least not yet — for a Warren administration. So that leaves the first-term Senator facing the particularly difficult problem of trying to open two doors at once. Her answer: Avoid the question. If Clinton's campaign falters, she can step into the Democratic void. And if Clinton runs, she can also step in—perhaps to a cushy cabinet spot.
Jim Webb, September
In an event at the National Press Club, Webb gave a speech detailing the "tangled mess" of U.S. foreign policy. But when asked whether the former Secretary of State was responsible, he demurred.
"I'm not here to undermine her. I'm here just to explain where my concerns are as someone who has been involved in the military and in foreign policy all of my life. It wasn't even a political comment when I made it. It is more comment about leadership and how we need to be much clearer in terms of our national goals and our objectives around the world."
Jim Webb prides himself on being a true political iconoclast. He's a Democrat who praises Ronald Reagan. A former Secretary of the Navy who's also a Hollywood producer. A decorated Marine Corps veteran and the author of six, occasionally racy, war novels. Webb's whole reputation is built on speaking truth -- or at least his version of it -- to power. Except when it comes to Clinton. He's "seriously looking" at running, against Clinton, in the next presidential election. But that doesn't mean he's going to start criticizing her. You'd have to be crazy to speak that kind of truth. 
Before it's here, it's on the Bloomberg Terminal.
LEARN MORE