The Rebel War Against Ukraine's Top Oligarch
Unresolved economic conflicts simmer during a tenuous cease-fire
John Wendle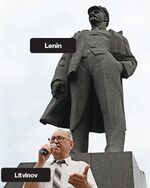 Reva stands at a rebel checkpoint in a black tracksuit and T-shirt, his RPK light machine gun slung over his back. He proudly shows off the slogan penned on his weapon's canvas strap: "Glory to the Donbas," the industrial region at the heart of Ukraine's civil war.
There hasn't been a lot of glory in his life. He grew up in an 11-square-meter apartment in the manufacturing town of Khartsyzsk. "We never had enough for anything," says Reva, who would only give his nom de guerre. At 22, he started work at the Khartsyzsk Pipe Plant, run by Metinvest. The steel giant is owned by Rinat Akhmetov, who's worth an estimated $10.9 billion, making him Ukraine's richest oligarch. "My pay was enough to survive, not to live," Reva says. "What I think about Rinat might offend him. He made a lot of money off our backs, and he didn't pay. Well, he paid, but it was only enough to survive."
Soon there may not be enough jobs in the Donbas to even survive—and that could lead to further unrest, making a lasting peace all the more difficult to attain. While a spottily observed cease-fire has slowed but by no means stopped a war that has left more than 2,600 dead, the Donbas regional economy has already been wrecked.
Continued shelling by both sides has forced the closure or slowdown of half a dozen factories and mines run by Metinvest, the dominant company in this steel region and the 25th largest steel producer in the world last year. Azovstal and Ilyich, its two largest steel factories, are producing at well below capacity; subsidiaries Yenakiieve Steel, Yenakiieve Coke, and Avdiivka Coke, near the front lines, are keeping their furnace fires lit but are not producing. Khartsyzsk Pipe, where Reva worked, is in rebel territory and closed.
Akhmetov's holdings in eastern Ukraine are themselves an object of contention. Boris Litvinov, a former Communist Party parliamentarian and now chairman of the Supreme Soviet of the breakaway Donetsk People's Republic, sits in an office festooned with the rebels' black, blue, and red flag. "Our constitution says that the land, minerals, forests, water, and air resources belong to the state," he says. And he should know—he wrote it. "The DPR believes that basic industries should be kept under state control," he says, adding that it will also "nationalize the entire chain of electricity production." Steel is a basic industry, meaning Akhmetov's factories, about half of which are now behind rebel lines, could be nationalized if the DPR lasts long enough to enforce its constitution. Akhmetov and other tycoons, who have invested hundreds of millions in the region, support the Kiev government. He could not be reached for comment.
"At some stage," Litvinov says, a public-private partnership in steel and energy "will be possible, with a controlling interest owned by the state, and the remaining shares controlled by the private investor." He adds: "There is an economic plan, but there are still problems in its implementation." He admits the economic minister's post remains unfilled but says, "I think, in the end, we will arrive at the conclusion that the Donbas and Ukraine will trade with each other. It will be a painful path, but we will get there." Russia, Litvinov claims, will aid the DPR's economy.
At the coke plant in Avdiivka, a town that was only just wrested from rebel control and is still close to the Ukrainian side of the front, General Director Musa Magomedov chats with workers. He's upset by the idea that anyone would say Metinvest didn't take care of its workers, but he understands where the anger has come from in the Donbas. "Politics is a concentrated expression of economics," he says, quoting Lenin.
What of the talk of the rebel republic taking over Metinvest facilities? "I don't know of one example of a successful nationalization in modern history," Magomedov says. "A factory doesn't work by itself. You need the whole chain, from coal and coke to ore, and you need somewhere to sell your end product."
With the plant's furnaces echoing the thump of shelling nearby, Magomedov sounds more worried about his workers than about Metinvest. "There is a way out" of the crisis, he says. "We just don't know where it goes."
BOTTOM LINE -
The bottom line: The rebel republic is making ominous noises about nationalizing the holdings of Ukraine's richest oligarch.
Before it's here, it's on the Bloomberg Terminal.
LEARN MORE