The Real Reason Destiny Is a Hit
Activision Blizzard's new game got $500 million in first-day revenue
by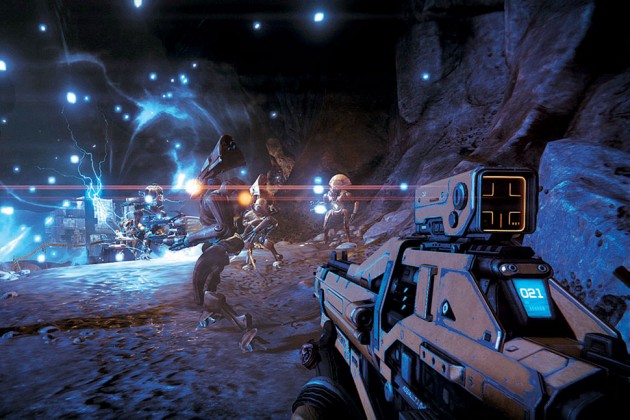 On a call with investors on Aug. 5, Activision Blizzard Chief Financial Officer Dennis Durkin was guarded in his outlook on Destiny, the company's about-to-be-released shooter game. He cautioned that the game's hefty software development and marketing costs—which analysts say may have already exceeded $300 million, with more coming for future enhancements—would weigh heavily on the company's results in the third and fourth quarters. But he predicted the game would be "marginally profitable" by yearend.
Durkin's timing may have been a bit off. Within 24 hours of the game's introduction on Sept. 9, Destiny took in $500 million in online orders and shipments to retailers, a record for a video game that's not a sequel. And if estimates by Wedbush Securities' Michael Pachter and other analysts are right, Destiny probably moved into the black soon after Activision shipped its first game disc. "It's an unquestionable success out the door for what appears to be an average game," says Mike Hickey, an analyst at investment firm Benchmark Company. "For how much money they've put into it, being profitable is definitely an achievement."
Activision Chief Executive Officer Bobby Kotick had already said the company would spend $500 million to develop, produce, and market the franchise. That, according to Hickey, is an unprecedented budget for a video game, especially one without the built-in fan base of an established hit such as Take-Two Interactive Software's Grand Theft Auto franchise or Activision's own Call of Duty.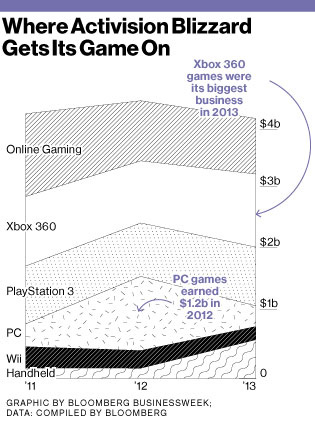 In part, Activision is benefiting from deals it cut years ago. Its four-year-old contract with Destiny's game developer, Bungie, the former Microsoft-owned studio that created the blockbuster Halo series, calls for Activision to pay the developer about $2.5 million a year during its creation of the game but a smaller-than-typical share of Destiny's sales, Pachter says. Bungie's royalties are reduced further whenever it misses a delivery deadline—which analysts say may have happened once in the past 12 months.
Activision gave Sony exclusive rights to use Destiny in promotions for its PlayStation console in the months after the game's rollout, prohibiting Microsoft from advertising the title with its Xbox. In exchange, Sony has pitched in millions for marketing. Destiny for PlayStation ads started running in the U.S. on Aug. 21, including a 90-second spot on Sept. 4 during the NFL season opener. That cost $1.4 million, says Sean Muller, CEO of ad-tracker iSpot.tv, which estimates about $12 million has been spent on Destiny TV commercials. Both Activision and Sony aren't saying how they split the tab.
Sony's also promoting Destiny on its gaming blog and in social media, and it's selling a special white PlayStation 4 bundled with Destiny for $10 less than the two would cost separately. The game retails for about $60.
"This is our biggest-ever marketing partnership in terms of the scale of it, the amount of investment, and the activities we're doing," says Guy Longworth, Sony's senior vice president of PlayStation marketing.
Hickey says the push behind Destiny, by today's "holy trinity" of gaming, drove preorders and purchases of the game, for which gamers around the world spent $325 million within five days. "You have Bungie, one of the most respected studios in the world, with Activision, with seemingly unlimited capital, and Sony, the strongest platform maker right now," he says. "In many ways, the game was too big to fail."
Don't tell that to game critics, however. The Toronto Sun on Sept. 16 called Destiny at times uneven and repetitive in a still-positive review. But even such weak praise has an upside for Activision. Bungie would have been due a multimillion bonus had the game won raves from critics. Now Activision may be able to keep that cash.
Before it's here, it's on the Bloomberg Terminal.
LEARN MORE