Tactile Pleasures at the 100% Norway Design Exhibition in London
by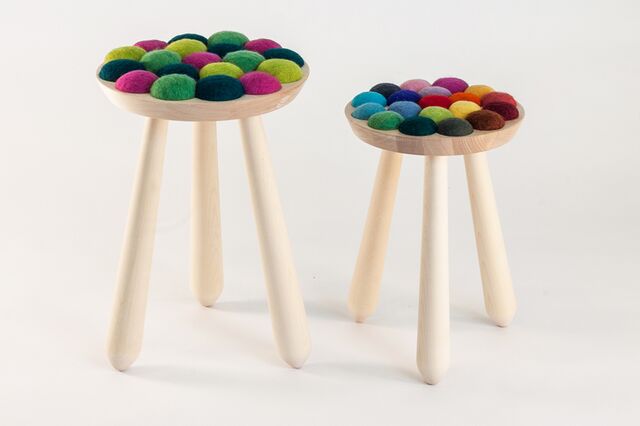 Today, the 11th edition of the 100% Norway exhibition opened at Tent London as part of the annual London Design Festival. Since 2003, the Norwegian government's envoys in the British capital have worked to create a space for the nation to show off its sensibility and skills. This year, the Bergen Academy of Art and Design was selected to curate a group of products that placed young designers in context with more established names. Emerging from the mix is a focus on textures that encourage you to look with your hands.

Scandinavian design is best known in warmer climes for its use of natural materials in clean, minimal designs, where tactile pleasures are secondary to the "sleek" factor. But not here. At 100% Norway, the featured Nordic designers have created objects that while simple in appearance beg to be touched. Sometimes this is crucial to the object's use and other times it's a temptation. This theme spans extends everything from seating to tableware, wool to metal. Here are three designers that stand out.
Christopher Konings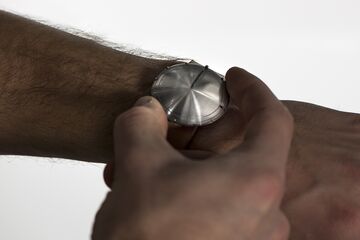 We're used to looking at watches, but they don't have to function that way. "Imagine all the situations [in which] you don't have to be the busy looking person frequently looking at your watch instead of keeping eye contact with the person you are having a conversation with," said design student Christopher Konings via email. "Or maybe you are in bed in the middle of the night and don´t want to wake up your partner by fiddling with a big smart phone that lights up the whole bed." (What a romantic.)
The Touch wristwatch instead uses rotating grooved discs to let you feel the time. In the age of the phones-on-the-table meeting, this kind of discretion feels more luxurious than its minimalist simplicity might indicate. It's going to take some serious re-training to keep yourself from constant wrist-glancing or phone-pulling, but it might be worth the effort.
Margit Seland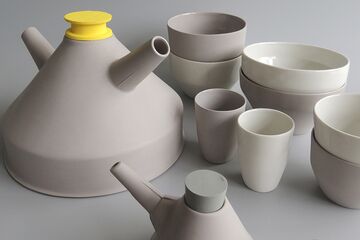 Ceramics and textiles are about as far apart from one another as you can get: hard vs. soft, fragile vs. flexible. But Margit Seland has studied both and managed to fuse the two disciplines to create products that highlight the contrast between how a thing looks and how it feels. Her Tuthanka series of decanters, cups, and bowls are all porcelain but have soft matte textures with glazed accents, a restrained take on this technique.
Aud Julie Befring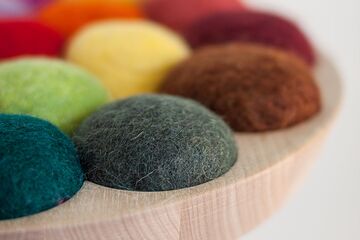 Hailing from Jølster, a few hours up the coast from Bergen, Aud Julie Befring's design studies have focused on using natural Norwegian materials in explicitly tactile ways. The colorful Cool with Wool stools are a perfect example of her approach. Turned birch legs and seats are topped with rainbow-hued woolen hemispheres that can be swapped in and out by the owners at will.
"I think the stool evokes curiosity," said Befring via email. "You get attracted to the colors and texture, and want to find out how the materials are put together, and how it feels. And once you have been drawn to this woolen thing, it is easy to grow fond of it."
100% Norway is on view at Tent London at the Old Truman Brewery in East London through September 21.
Before it's here, it's on the Bloomberg Terminal.
LEARN MORE