Sony Seeks to Create Netflix of Games as Losses Mount
Grace Huang, Yuji Nakamura and Aaron Clark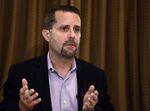 Sony Corp. plans to boost cloud-based gaming by creating a mass-market streaming service similar to Netflix Inc.'s as the PlayStation maker tries to rebound from a projected $2.1 billion annual loss.
The company wants its online game service to also work with Internet-connected TVs made by other manufacturers, Andrew House, president and group chief executive officer of Sony Computer Entertainment Inc., said in an interview at the Tokyo Game Show today. Shares fell 8.6 percent, the biggest drop since November, to close at 1,940 yen in Tokyo after the company announced a writedown at the mobile unit.
Gaming remains a bright spot for Sony, which yesterday widened its full-year loss forecast because of tepid smartphone sales, as it begins to merge online services offering movies, TV shows and software titles and prepares to start console sales in China. The PlayStation Network has more than 50 million active users, and the PS4 has sold more than 10 million units since its release in November, outpacing Microsoft Corp.'s Xbox One.
"If you look at other forms of entertainment and the dramatic impact streaming has had on those, that says to us that there's clearly a strong consumer satisfaction with the instant gratification," House said. "We think that has a role to play in the future of games as well."
Streaming Service
In 2012, Sony bought Gaikai Inc. for $380 million to acquire cloud gaming technology that allows users to interact with remote applications, enabling gamers to play without having the software installed on their devices. Currently, PlayStation Now is available in North America for streaming content on Sony devices including Bravia TVs.
Sony wants the service to extend beyond the console to be compatible with a range of smart TVs from other manufacturers, according to House. The company is experimenting with pricing options for rentals and subscriptions, he said.
"Sony is trying to make its game content available to people who never have touched its PlayStation console before," Hideki Yasuda, an analyst at Ace Research Institute based in Tokyo said by phone. "It is trying to attract non-core gamers."
Tokyo-based Sony yesterday said it would report a wider full-year loss of 230 billion yen as it writes down the value of its faltering smartphone business. The 180 billion-yen charge limits options for Chief Executive Officer Kazuo Hirai, who has been working to revive Sony by emphasizing entertainment, consoles and mobile devices as demand for TVs and cameras declines.
China Console
The company doesn't see the wider loss triggering any major changes in the game division, House said.
"My goal is to build out a very healthy, robust ecosystem based around the PlayStation platform that can be a strong contributor to both the brand and the financial health of the company," he said.
Sony agreed in May to form two ventures with Shanghai Oriental Pearl Group Co. to start making and selling consoles after China lifted a 13-year ban on sales of the machines. Sony will have a 70 percent stake in one venture for hardware production and 49 percent in the other for software sales and networks.
While the company's move into China remains "well on track," Sony is working through issues of censorship and how to structure its network services in the world's most populous nation.
Cutting Workers
Sony's commanding lead in sales of video-game consoles could give a boost to the Project Morpheus virtual reality headset the company unveiled in March.
"The only thing we've said in terms of release schedule is 2015 at the earliest. And I would underline the words 'at the earliest,'" House said.
Sony is cutting about 1,000 workers from the 7,100-person mobile phone unit and reducing the number of mid-range models as Chinese manufacturers gain global market share, Hirai said in a briefing yesterday.
Hirai has been pushing his One Sony plan to better integrate the company's electronics and entertainment assets to revive earnings. The mobile unit will be profitable in the fiscal year ending in March 2016, he said.
Earlier this month, Sony unveiled new devices that function as displays for PlayStation games. The Xperia Z3 smartphone is waterproof and comes with a battery that can stay charged for two days, and the Z3 Compact smartphone has a 4.6-inch screen, the company said.
Sony's effort to expand its network services could help the company boost profits in the future as development costs fall.
"We expect the network business to turn very profitable as costs of expansion tails off," Amir Anvarzadeh, a manager of Japanese equity sales at BGC Partners Inc. in Singapore, said in an e-mail.
Before it's here, it's on the Bloomberg Terminal.
LEARN MORE