pursuits
Runway Fashions for Sale, Sooner Than Ever
Luxury clothiers use Instagram to promote small-batch designs
By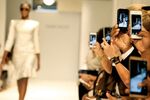 Fashionistas willing to pay thousands of dollars for a dress shown on the runway at New York Fashion Week can now get it in record time. During shows held in early September by Herve Leger and BCBG Max Azria Group, a downloadable Instagram tool created by startup RewardStyle let users following the shows buy some of the modeled items with a couple of clicks.
Online sales of high-end designer clothing before it hits the stores have been around for a few years now, most notably through Moda Operandi, founded by a former Gilt Groupe executive. Those clothes, however, can take half a year or longer to ship. MO estimates delivery of an Alexander Wang dress from September's Fashion Week to be sometime from January to April. RewardStyle's tool, LikeToKnow:It, promises users they'll have the runway pieces—such as a $1,300 white embroidered motorcycle jacket by Max Azria or a $7,000 bandage dress from Herve Leger—in about a month. For customers, "the best service isn't teasing them with a product they can't get for another six months," says Amber Venz Box, RewardStyle's co-founder and president.
The three-year-old Dallas startup lets fashion show attendees post photos with special tags. Followers who "like" a garment receive an e-mail they can use to visit the seller's site and preorder it. The trick is to persuade designers months before the shows to be ready to sell about 200 of the items they'll present on the runway. This year, Max Azria and Herve Leger ordered fabric in bulk and booked expert seamstresses in advance—shaving, they say, at least two months off the delivery time. "It's all about accessibility," says Lubov Azria, chief creative officer for BCBG Max Azria, who wouldn't say how many items she's sold through the service.
The RewardStyle tool's social media component can go a long way toward helping designers estimate, and expand, their market size, says Marlene Morris Towns, a marketing professor at Georgetown University. "It's opened up the audience," she says. "This is how they shop and how they browse and how they get information about brands. You'll see more regular people buying you wouldn't have thought of as fashionistas." Recruiting celebrities and fashion writers to use the RewardStyle tool is also a better way to sell clothes than advertising them directly, she says. Actress Shay Mitchell, seated in the front row at the BCBG Max Azria show, got hundreds of thousands of "likes" on her photos from her 4.5 million Instagram followers.
Box, herself a longtime fashion blogger, says RewardStyle gives writers a commission on purchases followers make through their links. RewardStyle, which until now has earned its money mostly from its own cut of sales through links on its website, says those links yielded $155 million in retail sales last year, a 300 percent rise from the year before. Box doesn't see the sales incentive as a conflict of interest, comparing it to her work as a personal shopper, when she got commissions based on her recommendations.
Her system has some kinks to work out. Unlike shopping apps Spring and Tinker Tailor, RewardStyle users need at least two apps to complete a purchase. Also, Instagram doesn't save payment info. Box says her coders are working to streamline the software, but for now, she's confident that adding more Fashion Week partners will help her model succeed. "For the customers, the comments are always, 'Where'd you get that? How can I get that?' " she says. "Especially for runway."
Before it's here, it's on the Bloomberg Terminal.
LEARN MORE