Led Zeppelin Says Stairway Suit Should Be Tossed or Moved to California
By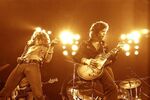 Members of Led Zeppelin say a lawsuit over authorship of their epic Stairway to Heaven should be dismissed or moved to California, arguing that the Philadelphia federal court where it was brought isn't an appropriate venue. To back their contention that the court lacks jurisdiction over them, the band members point out in new filings that they last played together in the city almost three decades ago—for the Live Aid famine-relief benefit.
As we've reported, Led Zeppelin faces a copyright infringement suit in the U.S. District Court for the Eastern District of Pennsylvania that alleges parts of the 1971 hit were filched from an obscure song by the band Spirit. The suit was filed May 31 by a Philadelphia-area lawyer who is representing the trust of the late Spirit guitarist, Randy California.
In their first formal response to the complaint, guitarist Jimmy Page, singer Robert Plant, and bassist and keyboard player John Paul Jones signed declarations saying they essentially have nothing to do with the city or state. "I have not performed as part of the musical group known as Led Zeppelin in the state of Pennsylvania since 1985," says the statement signed "James Patrick Page" and filed with the Philadelphia court Sept. 17. "That performance was without fee as one of many participants in a Live Aid charity concert." (The concert, at which they played Stairway, was a milestone for the band, the first time they'd performed together since the death of drummer John Bonham in 1980.)
The Led Zeppelin members made the declarations to support a motion by their lawyers that the case be dismissed or moved to U.S. District Court in Los Angeles, where the band members consent to jurisdiction, the filings say. Lawyers for their record company, Warner Music Group, filed a similar motion, arguing that Warner Music and its subsidiaries aren't Pennsylvania corporations and that no parties to the suit are located in that state. By contrast, many potential witnesses and relevant records are located in California, where the band Spirit was from, say the filings by the band members and record company.
The crux of the copyright claim is that, to many ears, the opening notes of Stairway to Heaven sound a lot like Taurus, an instrumental piece released on Spirit's debut album in 1968. At the end of that year and through 1969, Spirit and Led Zeppelin shared the bill at several concerts.
The lawsuit comes as Led Zeppelin prepares to reissue on Oct. 28 the untitled album, known as Led Zeppelin IV, that contains Stairway to Heaven. The album also includes a track that takes on new meaning in light of the latest legal filings: Going to California.
Before it's here, it's on the Bloomberg Terminal.
LEARN MORE