pursuits
Waka Flocka Flame's Blunt-Rolling Job Might Be a Better Bet Than College
By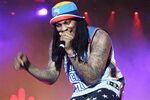 On Monday, the rapper Waka Flocka Flame announced via Instagram that he is in search of a personal "blunt roller" and is offering a $50,000 annual salary for the position.

On Wednesday evening, he publicized specific instructions for applying to the position on Twitter.
Waka Flocka, whose given name is Juaquin Malphurs, did not specify education requirements for applicants. But recent data suggest that securing a blunt-roller's starting salary would be a handy achievement for most college graduates.
Alumni from 84 percent of colleges will earn less than Waka Flocka's blunt-rolling specialist in their first 5 years on the job, according to a report released last week by PayScale, a company that tracks salary data.
 


The rapper later told the Huffington Post that he hired the actor Seth Rogen, who applied via Twitter. But Waka Flocka's manager said Rogen would be fired if he didn't "adhere to his day-to-day responsibilities" and James Franco hired in his place. Franco seems to have a lot going on, though, so the job may well be open soon for those who, college-educated or not, spent their youth honing the right skills.
Before it's here, it's on the Bloomberg Terminal.
LEARN MORE