Fonts Designed for Coders and Bloggers
Designers create typefaces to ease the work of coders and bloggers
by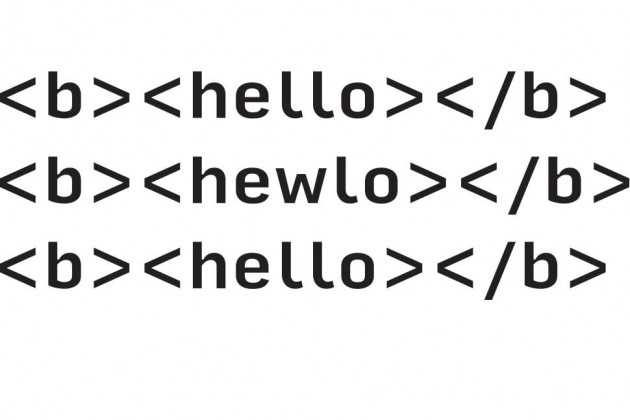 Like many software developers, David Jonathan Ross is picky about the tools he uses. And like many developers, when he can't find a tool he needs, he makes it himself. His latest creation isn't an algorithm or an app, it's a font. Ross, a typographer by training, designed it for one specific job: writing code.
Input, which made its debut last month, is the latest member of a relatively new species called writing typography. The term was coined by Oliver Reichenstein, creator of a popular word processing app called iA Writer that relies on one customized font, Nitti Light. Designers such as Ross and Reichenstein are catering to programmers, bloggers, and even novelists—in other words, anyone who makes a living from inputting text on a screen.
In June, Vox Media, a company that oversees a family of special-interest news sites, hired three digital-type experts to improve the look and feel of Chorus, the company's internal content-management software. Mandy Brown, David Yee, and Jason Santa Maria had founded Editorially, a Web-based writing and editing platform that also limited users to a single handpicked typeface. (Editorially folded earlier this year.) "We're exploring different fonts for the writing environment," says Vox Media Chief Product Officer Trei Brundrett. "We want [Chorus] to feel super inviting and be a place where you really want to write." Chorus is famed in the digital publishing world: In an interview with the New York Times in April, journalist-turned-entrepreneur Ezra Klein called it a key factor in his decision to launch his startup newsmagazine, Vox.com, at the company.
Font designers like Ross approach their work as if they're building office furniture. Input, with its 168 styles (there are five distinct i's and l's), is like an Aeron chair: high-tech, ergonomic, and customizable. "I think about it as being comfortable," says Ross of his new creation. With Input, punctuation "sticks out like a sore thumb," Ross explains, so programmers can spot errors. "If you set a novel in Input, the punctuation would be distracting. But in code it's a better balance because you're not reading as much as scanning."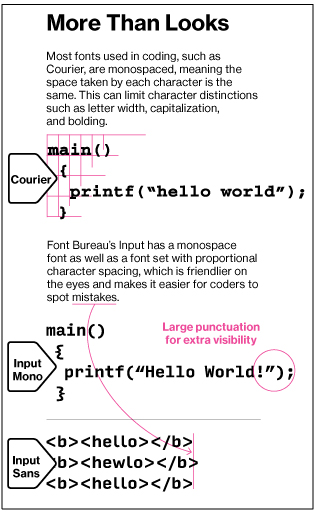 Reichenstein says downloads of his $4.99 iA Writer app have exceeded 1 million since it was introduced in 2010 and that customers have included best-selling authors such as Augusten Burroughs. Reichenstein credits the app's success "absolutely" to its typography. His font "is a massive competitive advantage," he says, in a market replete with free and copycat apps.
The business prospects for Input are foggier. Font Bureau, the Boston-based type foundry that employs Ross, offers Input as a free download for individuals—a first for the company—but charges license fees for commercial use. Nicholas Felton, a designer and programmer who was one of the creators of Facebook's Timeline, paid to use the typeface for the latest edition of the Feltron Annual Report, his online compilation of personal statistics, and sung its praises on Twitter.
As more designers and writers become coders (and vice versa), type designer Erik Spiekermann predicts that fonts optimized for writing rather than reading will "whet people's appetite" for more. "These people are influential," he says. "They want to have a pretty page, too." Even if no one sees it but them.
Before it's here, it's on the Bloomberg Terminal.
LEARN MORE